SBL Press Bookstore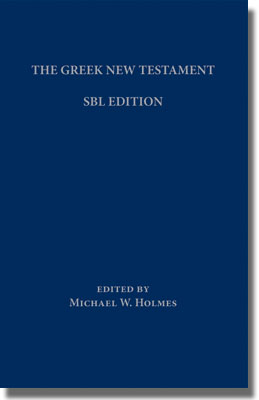 The Greek New Testament: SBL Edition
Michael W. Holmes, editor
Publication Date
November 2010
Hardback
$32.00
The Society of Biblical Literature, in keeping with its mission to foster biblical scholarship, is pleased to offer, in association with Logos Bible Software, a critically edited Greek New Testament. The Greek New Testament: SBL Edition (SBLGNT), which is freely available in electronic form and for purchase as a print edition, will be useful to students, teachers, translators, and scholars in a wide variety of settings and contexts. The SBLGNT is:
Reliable: The SBLGNT was edited by Michael W. Holmes, who utilized a wide range of printed editions, all the major critical apparatuses, and the latest technical resources and manuscript discoveries as he established the text. The result is a critically edited text that differs from the Nestle-Aland/United Bible Societies text in more than 540 variation units.


Freely Available: Anyone from anywhere in the world may download all or parts of the electronic edition of the SBLGNT at www.sblgnt.com. Thus, both students, teachers, clergy, and interested laypersons can use the SBLGNT in their study and writings without having to input the Greek text letter by letter.


Exchangeable: The text of the SBLGNT has been encoded in a Unicode-compliant font so users can exchange files easily without having to secure a special Greek font. Users may use SBLGreek (free at http://www.sbl-site.org/educational/BiblicalFonts_SBLGreek.aspx) or any other Unicode font that supports the full range of Greek characters.


Versatile: In addition to granting professors and students permission to use the SBLGNT freely in their writings, the End-User License Agreement encourages the development of new electronic and print products based on the SBLGNT through a liberal permission and licensing policy.
In addition to being freely available for download, the SBLGNT can be purchased as a reasonably priced, professionally produced print edition that includes a full apparatus of variant readings from the four primary editions on which the SBLGNT is based and NA27. With Smyth-sewn binding, a Kivar cover, and reader-friendly type, the print edition provides a durable, affordable alternative for scholarly research and classroom use.