SBL Press Bookstore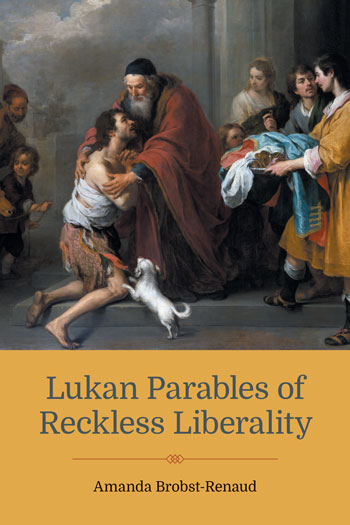 Lukan Parables of Reckless Liberality
Amanda Brobst-Renaud
Publication Date
April 2021
Hardback
$80.00
From among the many parables in Luke, Amanda Brobst-Renaud chooses three, which she names 'parables of reckless liberality': the Prodigal Son, the Shrewd Steward, and the Rich Man and Lazarus. Picking up on the supposed slur that Jesus 'welcomes sinners and dines with them', Luke encourages his audience in these parables from chaps. 15–16 in a practice of giving excessively to the wrong people at inappropriate times (flouting Aristotle's advice on liberality in the Nicomachean Ethics).
Each parable in this volume presents at least one of its characters in crisis; these situations demand a decisive response. We all know the crises faced by the younger son, the steward, and the rich man, but the crises confronting the elder son and the rich man's brothers are equally dire, starkly sketched by the open questions left hanging at the end of each parable. Will the elder son join the party, celebrating his once-dead younger brother? Will the steward secure an eternal welcome? Will the rich man's brothers heed Moses and the prophets, or will they meet the same fate as the rich man?
In each case, reckless liberality answers the characters' quandaries and demands of Luke's auditors that they choose between emulating or avoiding the behaviors of the characters. The elder son should join the party and imitate his father's reckless liberality: giving to someone undeserving, at an inappropriate time, and to an excessive amount. The steward's highly questionable profligacy plus his debt-reduction schemes nevertheless earn his master's praise and secure his welcome (Lk. 16.9). The rich man's brothers should listen to the call of the law and the prophets to care for the poor and disenfranchised, and show reckless liberality to any Lazarus on their thresholds. Showing reckless liberality gives entrance into the eschatological party (Lk. 16.16).
Amanda Brobst-Renaud is Assistant Professor of Theology, Valparaiso University, IN.
SBL Press is the North American distributor for Sheffield Phoenix Press. Customers outside of North America can purchase this book directly from Sheffield Phoenix by clicking here.