SBL Press Bookstore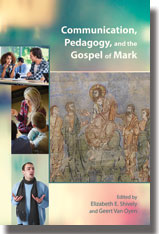 Communication, Pedagogy, and the Gospel of Mark
Elizabeth E. Shively, Geert Van Oyen , editors
Publication Date
March 2016
Paperback
$32.00
Reflections on the relationship between research and teaching
Using Mark as a test case, scholars address questions like: How should my research and my approach to the text play out in the classroom? What differences should my academic context and my students' expectations make? How should new approaches and innovations inform interpretation and teaching? This resource enables biblical studies instructors to explore various interpretative approaches and to begin to engage pedagogical issues in our changing world.
Features:
Ideas that may be adapted for teaching any biblical text
Diverse perspectives from nine experts in their fields
Essays include tips, ideas, and lesson plans for the classroom
Elizabeth E. Shively is lecturer of New Testament Studies at the University of St Andrews, Scotland. She is the author of Apocalyptic Imagination in the Gospel of Mark: The Literary and Theological Role of Mark 3:22-30 (2012).
Geert Van Oyen is professor New Testament at the Université catholique de Leuven, Belgium. He is the co-editor of Resurrection of the Dead (2012) and author of Reading Mark as a Novel (2013).
Download volume front matter, including table of contents and introduction.
This is Resources for Biblical Study 83.See more available volumes in the RBS series.