SBL Press Bookstore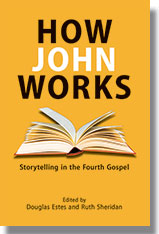 How John Works: Storytelling in the Fourth Gospel
Douglas Estes, Ruth Sheridan, editors
Publication Date
October 2016
eBook
$49.00
Essential classroom resource for New Testament courses
In this book, a group of international scholars go in detail to explain how the author of the Gospel of John uses a variety of narrative strategies to best tell his story. More than a commentary, this book offers a glimpse at the way an ancient author created and used narrative features such as genre, character, style, persuasion, and even time and space to shape a dramatic story of the life of Jesus.
Features:
An introduction to the Fourth Gospel through its narrative features and dynamics
Fifteen features of story design that comprise the Gospel of John
Short, targeted essays about how John works that can be used as starting points for the study of other Gospels/texts
Douglas Estes is Assistant Professor of New Testament and Practical Theology and the Director of the DMin Program at South University-Columbia. He has written or edited six books, including The Temporal Mechanics of the Fourth Gospel (Brill) and The Questions of Jesus in John (Brill).
Ruth Sheridan is a research fellow at CSU Australia. She has published numerous articles on the book of John in peer reviewed journals, including the Journal of Biblical Literature, Biblical Interpretation, and the Irish Theological Quarterly.
Download volume front matter, including table of contents and introduction.
Download a printable publication sheet that you can put in your files or give to your librarian or bookstore.
Download a printable standing order sheet to see other available volumes in the series and to give to your librarian to set up a standing order.