SBL Press Bookstore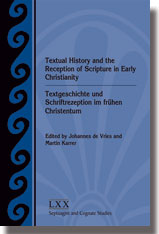 Textual History and the Reception of Scripture in Early Christianity
Johannes De Vries, Martin Karrer
Publication Date
November 2013
Paperback
$57.00
The essays in this volume summarize an international research project on early Christian citations from Israel's scriptures. These quotations are not only theologically significant but are also part of the textual history of the Septuagint and adjacent textual traditions of the Greek and Hebrew Old Testament. The essays discuss relevant manuscripts (Bible codices, papyri, etc.) up to the fifth century, signs and marginal notes (e.g., the diplé) that were used in the ancient scriptoria, and the specifics of the reception history in early Christianity from Matthew to 1 Peter and from the apostolic fathers to Theophilos of Antioch. The contributors are Felix Albrecht, Ronald H. van der Bergh, Heinz-Josef Fabry, Kerstin Heider, Martin Karrer, Christin Klein, Arie van der Kooij, Siegfried Kreuzer, Horacio E. Lona, Martin Meiser, Maarten J. J. Menken, Matthias Millard, Darius Müller, Ferdinand R. Prostmeier, Alexander Stokowski, Martin Vahrenhorst, Christiane Veldboer, and Johannes de Vries.
Johannes de Vries is a Research Fellow at the Kirchliche Hochschule Wuppertal/Bethel.
Martin Karrer is Professor of New Testament at the Kirchliche Hochschule Wuppertal/Bethel. Together with Wolfgang Kraus and Siegfried Kreuzer, he directs the long-term research-project Septuaginta Deutsch, which has published a German translation, annotations and commentaries to the Septuagint, and congress volumes. A handbook to the Septuagint is in preparation.
Download a printable publication sheet that you can put in your files or give to your librarian or bookstore.
Download volume front matter, including table of contents and introduction.