SBL Press Bookstore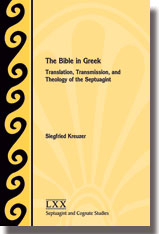 The Bible in Greek: Translation, Transmission, and Theology of the Septuagint
Siegfried Kreuzer
Publication Date
September 2015
Paperback
$47.00
Essential reading for scholars and students
This volume presents English and German papers that give an overview on important stages, developments, and problems of the Septuagint and the research related to it. Four sections deal with the cultural and theological background and beginnings of the Septuagint, the Old Greek and recensions of the text, the Septuagint and New Testament quotations, and a discussion of Papyrus 967 and Codex Vaticanus.
Features:
A complete list of Kreuzer's publications on the text and textual history of the Hebrew Bible and the Septuagint
Criteria for analysis of the Antiochene/Lucianic Text and the Kaige-Recension
A close examination of the origins and development of the Septuagint in the context of Alexandrian and early Jewish culture and learning
Siegfried Kreuzer is Professor of Old Testament at the Kirchliche Hochschule/Protestant University in Wuppertal, Germany. He is author and co-editor for the research project Septuaginta Deutsch (the German translation of the Septuagint with commentary volumes and the multi-volume Handbuch zur Septuaginta). He is currently the editor of the Journal of Septuagint and Cognate Studies.
Download volume front matter, including table of contents and introduction.
Download a printable publication sheet that you can put in your files or give to your librarian or bookstore.
Download a printable standing order sheet to see other available volumes in the series and to give to your librarian to set up a standing order.