SBL Press Bookstore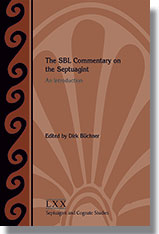 The SBL Commentary on the Septuagint: An Introduction
Dirk Buchner, editor
Publication Date
November 2017
Paperback
$40.00
Explore the groundwork for a new commentary series from SBLPress
This book contains verse by verse commentary on selections from the Greek text of the Hebrew Bible known as the Septuagint. Each chapter is from a different bible book, for which there will eventually be a full commentary published in the Society of Biblical Literature Commentary on the Septuagint. The commentary series focuses on the actual process of translation, so its authors try to describe and explain the kinds of decisions the ancient Alexandrian translators made about how to render Hebrew into Greek.
Features
Translations from and commentary on Genesis, Exodus, Leviticus, Numbers, Esther, Job, and Psalms
Contributions from eight experts on the Septuagint
Guidelines and procedures used in the production of the translations in the series
Dirk Büchner is Professor of Religious Studies, Trinity Western University. He is the author of Leviticus: A New English Translation of the Septuagint (2007).
Download volume front matter, including table of contents and introduction.
Download a printable standing order sheet to see other available volumes in the series and to give to your librarian to set up a standing order.