SBL Press Bookstore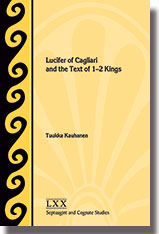 Lucifer of Cagliari and the Text of 1-2 Kings
Tuukka Kauhanen
Publication Date
July 2018
Paperback
$65.00
The most up-to-date study of the text history of 1 and 2 Kings
In this book, Tuukka Kauhanen approaches the challenging case of the textual history of 1 and 2 Kings through citations of the text found within the writings of the fourth-century bishop of Sadinia, Lucifer of Cagliari. Kauhanen presents evidence that Lucifer's Latin text sheds important light on lost Hebrew and Greek pieces of the textual puzzle in Kings. In doing so, he compares all of Lucifer's extensive quotations of Kings to extant Greek witnesses as well as Old Latin witnesses where available and subsequently analyzes the probable reasons for textual variations. In each instance he attempts to choose the best possible candidate for the Old Greek reading and where that reading might reflect a now-lost Hebrew text.
Features
Use of the most current research into the text of the Hebrew Bible and the Septuagint, including the Hebrew Bible: A Critical Edition series and the forthcoming Göttingen Septuagint edition of King
An appendix listing readings from the analysis sections arranged according to agreement patterns and other meaningful criteria
Charts comparing readings
Download volume front matter, including table of contents and introduction.
Download a printable publication sheet that you can put in your files or give to your librarian or bookstore.
This is Septuagint and Cognate Studies 68Download a printable standing order sheet to see other available volumes in the series and to give to your librarian to set up a standing order.