SBL Press Bookstore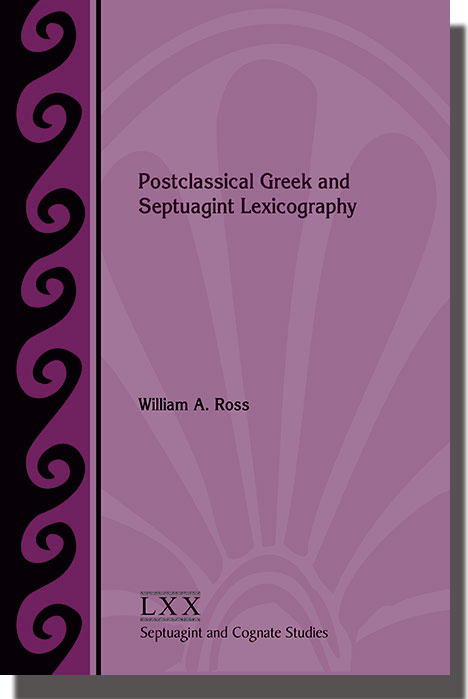 Postclassical Greek and Septuagint Lexicography
William A. Ross
Publication Date
March 2022
Paperback
$45.00
A long-standing tradition within biblical scholarship sets the Greek text of the Septuagint constantly in relationship with its supposed Hebrew or Aramaic Vorlage, examining the two together in terms of their grammatical alignment as a standard. Yet another tradition frames the discussion in different terms, preferring instead to address the Septuagint first of all in light of its contemporary Greek linguistic environment and only then attempting to describe its language and style as a text. It is this latter approach that William A. Ross employs in this textually based study of the Greek versions of Judges, a so-called double text in the textual history of the Septuagint. The results of his study offer a window into the Old Greek translation and its later revision, two distinct stages of Greek Judges with numerous instances of divergent vocabulary choices that reflect deliberateness in both the original selection and the subsequent change within the textual development of the book. Ross's study illustrates the practicalities and payoff of a Greek-oriented lexicographical method that situates the language of the Septuagint squarely within its contemporary historical and linguistic context.
William A. Ross is Associate Professor of Old Testament at Reformed Theological Seminary (Charlotte). He is a coeditor of the T&T Handbook for Septuagint Research (2021) and Septuaginta: A Reader's Edition (2018).
Download volume front matter, including table of contents and introduction.
Download a printable publication sheet that you can put in your files or give to your librarian or bookstore.