SBL Press Bookstore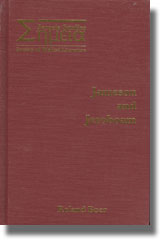 Jameson and Jeroboam
Roland Boer
Publication Date
January 1997
Hardback
$47.00
This book is the first major application of the work of Fredric Jameson to the Bible. Jameson, one of the leading literary and cultural critics working today, has developed a complex Marxist model of interpretation that includes a full range of issues from text to economics. The book has two sections, the first of which is a critical account of Jameson's approach. The second part applies that approach to the texts of the Jeroboam narrative in the Hebrew Bible (1 Kings 11–14; LXX 3 Reigns 11–14; and 2 Chronicles 10–13). The examination of these texts moves from questions of form and content, through ideology and religion, to class and economics.
"an important book, one that will prove helpful both for those who seek to employ the technical aspects of current literary criticism to the interpretation of the Bible and for those who want to deepen their understanding of the biblical literature about the early monarchy.
—Catholic Biblical Quarterly
"a major contribution both within and beyond biblical studies."
—David Jobling
"In this remarkable study, Roland Boer presents both a detailed analysis of the critical theory of Frederic Jameson, no mean feat in itself, and an original application of it to a selection of biblical texts (Hebrew and Greek) about Jeroboam. This is the first application of the approach of this major American critic to the Bible."
—Robert C. Culley
Roland Boer is Associate Professor in the Centre for Comparative Literature and Cultural Studies at Monash University, Victoria, Australia, and the editor of the online journal Bible and Critical Theory.
Click
here for the paperback edition.