SBL Press Bookstore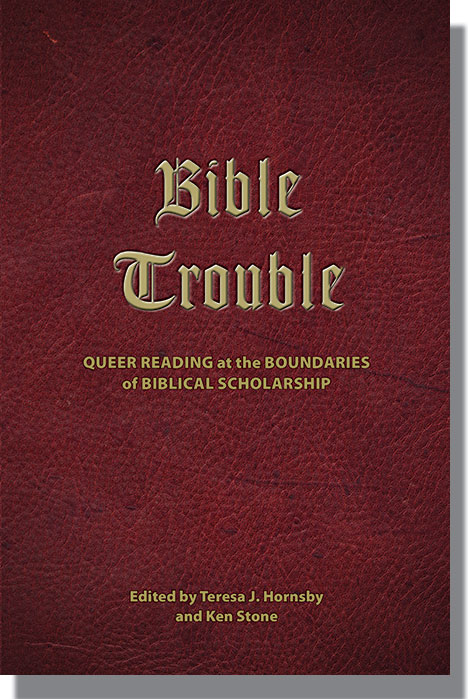 Bible Trouble: Queer Reading at the Boundaries of Biblical Scholarship
Teresa J. Hornsby, Ken Stone
Publication Date
August 2011
Paperback
$49.00
The essays in Bible Trouble all engage queer theories for purposes of biblical interpretation, a rare effort to date within biblical scholarship. The title phrase "Bible Trouble" plays on Judith Butler's Gender Trouble, gesturing toward a primary text for contemporary queer theory. The essays consider, among others, the Lazarus story, the Ethiopian eunuch, "gender trouble" in Judges 4 and 5, the Song of Songs, and an unorthodox coupling of the books of Samuel and the film Paris Is Burning. This volume "troubles" not only the boundaries between biblical scholarship and queer theory but also the boundaries between different frameworks currently used in the analysis of biblical literature, including sexuality, gender, race, class, history, and literature. The contributors are Ellen T. Armour, Michael Joseph Brown, Sean D. Burke, Heidi Epstein, Deryn Guest, Jione Havea, Teresa J. Hornsby, Lynn R. Huber, S. Tamar Kamionkowski, Joseph A. Marchal, Jeremy Punt, Erin Runions, Ken Stone, Gillian Townsley, Jay Twomey, and Manuel Villalobos.
Teresa J. Hornsby is Associate Professor of Religious Studies at Drury University. She is the author of Sex Texts from the Bible (Skylight Paths, 2007). Ken Stone is Academic Dean and Professor of Bible, Culture and Hermeneutics at Chicago Theological Seminary. He is the author of Sex, Honor and Power in the Deuteronomistic History (Sheffield Academic Press, 1996) and Practicing Safer Texts: Food, Sex and Bible in Queer Perspective (T&T Clark, 2005) and editor of Queer Commentary and the Hebrew Bible (Sheffield/Pilgrim, 2001).
Click here for the volume front matter, including the table of contents and introduction.
Click here for a printable publication sheet that you can put in your files or give to your librarian or bookstore.