SBL Press Bookstore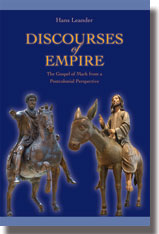 Discourses of Empire: The Gospel of Mark from a Postcolonial Perspective
Hans Leander
Publication Date
November 2013
Paperback
$50.00
This inventive work explores Mark's Gospel within the contexts of the empires of Rome and Europe. In a unique dual analysis, the book highlights how empire is not only part of the past but also of a present colonial heritage. The book first outlines postcolonial criticism and discusses the challenges it poses for biblical scholarship, then scrutinizes the complex ways with which nineteenth-century commentaries on Mark's Gospel interplayed with the formation of European colonial identities. It examines the stance of Mark's Gospel vis-à-vis the Roman Empire and analyzes the manner in which the fibers of empire within Mark are interwoven, reproduced, negotiated, modified and subverted. Finally, it offers synthesizing suggestions for bringing Mark beyond a colonial heritage. The book's candid use of postcolonial criticism illustrates how a contemporary perspective can illuminate and shed new light on an ancient text in its imperial setting.
Hans Leander is Postdoctoral Researcher in Religion and Postcolonial Studies in the Department of Theology at Uppsala University.
Download a printable publication sheet that you can put in your files or give to your librarian or bookstore.
Download volume front matter, including table of contents and introduction.