SBL Press Bookstore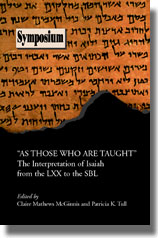 As Those Who are Taught: The Interpretation of Isaiah from the LXX to the SBL
Patricia K Tull, Claire Mathews Mcginnis
Publication Date
July 2006
Paperback
$42.00
This far-ranging volume, edited by Claire Mathews McGinnis and Patricia K. Tull, offers a survey of the history of Isaiah's reception over the course of two millennia, from the Septuagint and early versions, continuing through the centuries in Jewish and Christian exegesis, and concluding with the late twentieth century. Each chapter includes an introductory survey of Isaiah's interpretation within a particular historical context and then pursues a particular facet of Isaiah's reception by one of Isaiah's many readers in that time period. An indispensable resource for scholars and students working in the fields of biblical studies, hermeneutics, and the history of interpretation, this volume will also appeal to anyone with an interest in the book of Isaiah and its interpretation.
Claire Mathews McGinnis is Associate Professor of Theology and Director of the Center for the Humanities at Loyola College in Maryland. She is the author of Defending Zion: Edom's Desolation and Jacob's Restoration (Isaiah 34–35) in Context (de Gruyter). Patricia K. Tull is Professor of Hebrew Scriptures at Louisville Presbyterian Theological Seminary in Louisville, Kentucky. She is the author of Remember the Former Things: The Recollection of Previous Texts in Second Isaiah (Society of Biblical Literature). They are both former co-chairs and contributing members of the Formation of the Book of Isaiah Group in the Society of Biblical Literature Annual Meeting.
"Fifteen essays on the reception history of the book of Isaiah in Jewish and Christian history make a welcome addition to the literature about it, drawing attention to the exceptionally formative role it has played from ancient to modern times. … The essays are sometimes a survey of familiar territory but much is exploratory and they open up insights into the importance of this area of research for biblical exegesis. They make a worthy tribute to the memory of Gerald Sheppard to whom the collection is dedicated."
— R. E. Clements, Journal for the Study of the Old Testament
CONTENTS
Remembering the Former Things: The History of Interpretation and Critical Scholarship
—Claire Mathews McGinnis and Patricia K. Tull
"It's All about Us!": Nationalistic Exegesis in the Greek Isaiah (Chapters 1–12)
—David A. Baer
Interpretation of the Book of Isaiah in the Septuagint and in Other Ancient Versions
—Arie van der Kooij
On Isaiah at Qumran
—George J. Brooke
Moses and Isaiah in Concert: Paul's Reading of Isaiah and Deuteronomy in the Letter to the Romans
—J. Ross Wagner
The Testimony of Isaiah and Johannine Christology
—Catrin H. Williams
Isaiah and the Book of Revelation: John the Prophet as a Fourth Isaiah?
—Jan Fekkes III
Patristic Interpretation of Isaiah
—J. David Cassel
Structure and Composition in Isaiah 1–12: A Twelfth-Century Northern French Rabbinic Perspective
—Robert A. Harris
The Suffering Servant and Job: A View from the Sixteenth Century
—Alan Cooper
"Becoming a Part of Israel": John Calvin's Exegesis of Isaiah
—Amy Plantinga Pauw
The Poet's Prophet: Bishop Robert Lowth's Eighteenth-Century Commentary on Isaiah
—Gary Stansell
On the Road to Duhm: Isaiah in Nineteenth-Century Critical Scholarship
—Marvin A. Sweeney
Form Criticism, Rhetorical Criticism, and Beyond in Isaiah
—Roy F. Melugin
One Book, Many Voices: Conceiving of Isaiah's Polyphonic Message
—Patricia K. Tull