SBL Press Bookstore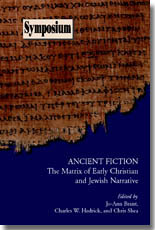 Ancient Fiction: The Matrix of Early Christian and Jewish Narrative
Joann Brant, Charles W Hedrick; Jo Ann A. Brant, Charles W. Hedrick, Chris Shea, editors
Publication Date
October 2005
Paperback
$42.00
The essays in this volume examine the relationship between ancient fiction in the Greco-Roman world and early Jewish and Christian narratives. They consider how those narratives imitated or exploited conventions of fiction to produce forms of literature that expressed new ideas or shaped community identity within the shifting social and political climates of their own societies. Major authors and texts surveyed include Chariton, Shakespeare, Homer, Vergil, Plato, Matthew, Mark, Luke, Daniel, 3 Maccabees, the
Testament of Abraham,
rabbinic midrash, the Apocryphal Acts, Ezekiel the Tragedian, and the Sophist Aelian. This diverse collection reveals and examines prevalent issues and syntheses in the making: the pervasive use and subversive power of imitation, the distinction between fiction and history, and the use of history in the expression of identity.
Jo-Ann A. Brant
is Chair of the Department and Professor of Bible, Religion, and Philosophy at Goshen College in Goshen, Indiana. She is the author of
Dialogue and Drama: Elements of Greek Tragedy in the Fourth Gospel
(Hendrickson).
Charles W. Hedrick
is Distinguished Professor of Religious Studies at Southwest Missouri State University in Springfield, Missouri, and the author of numerous books, including
Many Things in Parables: Jesus and His Modern Critics
(Westminster John Knox).
Chris Shea
is Chair of the Department of Modern Languages and Classics and Professor of Classics at Ball State University in Muncie, Indiana.
CONTENTS
The Educational Curriculum in Chariton's
Callirhoe
—Ronald F. Hock
Imitating Imitation: Vergil, Homer, and Acts 10:1–11:18
—Chris Shea
Die Entführung in das Serail: Aspasia: A Female Aesop?
—Richard I. Pervo
Novel and Mystery: Discourse, Myth and Society
—Gerhard Van Den Heever
Midrash as Fiction and Midrash as History: What Did the Rabbis Mean?
—Chaim Milikowsky
Mimesis and Dramatic Art in Ezekiel the Tragedian's
Exagoge
—Jo-Ann A. Brant
Daniel 1–6: A Biblical Story-Collection
—Tawny L. Holm
3 Maccabees: An Anti-Dionysian Polemic
—Noah Hacham
Third Maccabees: Historical Fictions and the Shaping of Jewish Identity in the Hellenistic Period
—Sara R. Johnson
Humor and Paradox in the Characterization of Abraham in the
Testament of Abraham
—Jared W. Ludlow
Resurrection and Social Perspectives in the Apocryphal
Acts of Peter
and
Acts of John
—Judith B. Perkins
The Breasts of Hecuba and Those of the Daughters of Jerusalem: Luke's Transvaluation of a Famous Iliadic Scene
—Dennis R. MacDonald
The Choral Crowds in the Tragedy According to St. Matthew
—J. R. C. Cousland
The Summaries of Acts 2, 4, and 5 and Utopian Literary Traditions
—Ruben Rene Dupertuis
A Biography of a Motif: The Empty Tomb in the Gospels, the Greek Novels, and Shakespeare's
Romeo and Juliet
—Andy Reimer