SBL Press Bookstore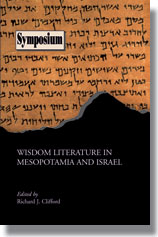 Wisdom Literature in Mesopotamia and Israel
Richard J. Clifford
Publication Date
August 2007
Paperback
$22.00
The last fifty years have seen a dramatic increase of interest in the wisdom literature of the Bible, as scholars have come to appreciate the subtlety and originality of Proverbs, Job, and Ecclesiastes as well as of Sirach and Wisdom of Solomon. Interest has likewise grown in the wisdom literatures of the neighboring cultures of Canaan, Egypt, and especially Mesopotamia. To help readers understand the place of biblical wisdom within this broader context, including its originality and distinctiveness, this volume offers a rich collection of essays by distinguished Assyriologists and biblicists on the social, intellectual, and literary setting of Mesopotamian wisdom; on specific wisdom texts; and on key themes common to both Mesopotamian and biblical culture. Scholars, pastors, and laity will find these essays both fascinating and enriching.
Richard J. Clifford, S.J., is Professor of Old Testament at Weston Jesuit School of Theology. Among his many works are Creation Accounts in the Ancient Near East and in the Bible (Catholic Biblical Association); Proverbs: A Commentary (Westminster John Knox); Psalms 1–72 and Psalms 73–150 (Abingdon).
"The editor of this slim but distinguished collection explains its origin in a panel at the annual meeting of the SBL in 2004 at San Antonio, Texas.… The meeting was so successful that it was decided to publish the papers and invite other scholars to contribute. The result is seven papers, arranged in four parts. … All in all, a fascinating spread, even for non-specialist readers."
— R. P. R. Murray, Journal for the Study of the Old Testament
CONTENTS
Introduction
Richard J. Clifford, S. J.
Part 1: The Context of Wisdom in Mesopotamia
The Social and Intellectual Setting of Babylonian Wisdom Literature
Paul-Alain Beaulieu
Why Wisdom Became a Secret: On Wisdom as a Written Genre
Karel van der Toorn
Part 2: Studies in Babylonian Wisdom Texts
An Allusion to the Šamaš Hymn in The Dialogue of Pessimism
Victor Avigdor Hurowitz
The Wisdom of Šupe-ameli—A Deathbed Debate between a Father and Son
Victor Avigdor Hurowitz
Part 3: Comparisons of Mesopotamian and Biblical Texts and Motifs
Sages with a Sense of Humor: The Babylonian Dialogue between the Master and His Servant and the Book of Qoheleth
Edward L. Greenstein
Cosmos, Temple, House: Building and Wisdom in Mesopotamia and Israel
Raymond C. Van Leeuwen
Part 4: Biblical Wisdom Literature
Beginnings, Endings, and Life's Necessities in Biblical Wisdom
James L. Crenshaw