SBL Press Bookstore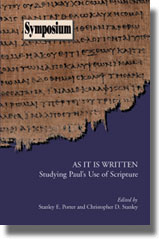 As It Is Written: Studying Paul's Use of Scripture
Stanley E. Porter, Christopher D. Stanley
Publication Date
September 2008
Paperback
$47.00
All scholars recognize that Scripture plays a vital role in the theology and rhetoric of the apostle Paul. They disagree, however, about how best to make sense of the many marked and unmarked references to Scripture that permeate his letters. This book aims to move the discussion forward by examining the reasons behind these scholarly differences. The essays are united by a concern to show how scholarly opinions concerning Paul's use of Scripture have been influenced by the application of divergent methods and conflicting presuppositions regarding Paul, his audiences, and the role of biblical references in his letters. The book also seeks to extend the boundaries of the discussion by applying the insights of deconstruction, postcolonial theory, and feminist criticism to the study of Paul's use of Scripture. Together these essays show what can be accomplished when scholars take the time to discuss their differences and try out new approaches to old problems.
The contributors are Douglas A. Campbell, Roy Ciampa, Steven DiMattei, Kathy Ehrensperger, Neil Elliott, Bruce N. Fisk, Mark D. Given, Steve Moyise, Stanley E. Porter, Jeremy Punt, and Christopher D. Stanley.
Stanley E. Porter, Ph.D. (1988) in Biblical Studies and Linguistics, University of Sheffield, is President, Dean, and Professor of New Testament at McMaster Divinity College. He is the author or co-author of twelve books and editor of over fifty volumes, including works on Paul and his use of Scripture. Christopher D. Stanley, Ph.D. (1990) in New Testament, Duke University, is Professor of Theology at St. Bonaventure University. He is the author of two books and numerous articles on Paul's use of Scripture and is chair of the SBL Paul and Scripture Seminar.