SBL Press Bookstore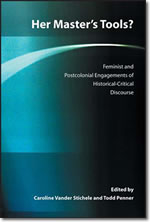 Her Master's Tools? Feminist and Postcolonial Engagements of Historical-Critical Discourse
Caroline Vander Stichele, Todd Penner,
Publication Date
June 2005
Paperback
$42.00
This collection of essays, originating in the SBL International Meetings in Berlin (2002) and Cambridge (2003), explores the current reception of historical criticism in feminist biblical studies, pushing the boundaries of past study and opening new vistas for future research. By framing the discussion in the context of the current reevaluation of both historical criticism and feminist exegesis, the contributors highlight the ongoing need to engage methodological issues. In addition, a strong postcolonial emphasis throughout the volume challenges the hegemony of Western biblical interpretation. Authored by Western and non-Western scholars both female and male, junior and senior voices in the field, and a range of feminist scholars situated alongside postcolonial and gender critics, this collection reveals not only the multiplicity of perspectives but also the various transitions in scholarship that have taken place over the past thirty years.
Caroline Vander Stichele
is Universitair Docent in Religious Studies at the University of Amsterdam.
Todd Penner
is Cloud Associate Professor in Religion at Austin College in Sherman, Texas. Penner and Vander Stichele also edited
Contextualizing Acts: Lukan Narrative and Greco-Roman Discourse (Society of Biblical Literature, 2003).



"This volume reflects a timely and necessary discussion of methodological issues related to possible interactions between historical-critical and other approaches to the Bible, but it also demonstrates the cautionwhich has to be exercised in claims of inclusiveness (as highlighted in the Epilogue). It is an interesting and valuable contribution to further and necessary debate within the discipline."
— Kathy Ehrensperger, Journal for the Study of the New Testament

CONTENTS


Mastering the Tools or Retooling the Masters? The Legacy of Historical-Critical Discourse
Caroline Vander Stichele and Todd Penner

Historical-Critical Approaches and the Emancipation of Women:Unfulfilled Promises and Remaining Possibilities
Hanna Stenström

"Tandoori Reindeer" and the Limitations of Historical Criticism
Susanne Scholz

Breaking the Established Scaffold: Imagination as a Resource in the Development of Biblical Interpretation
Hjamil A. Martínez-Vázquez

Postcolonialism and the Practice of History
John W. Marshall

The Rhetorical Full-Turn in Biblical Interpretation and Its Relevance for Feminist Hermeneutics
Vernon K. Robbins

Full Turns and Half Turns: Engaging the Dialogue/Dance between Elisabeth Schüssler Fiorenza and Vernon Robbins
Priscilla Geisterfer

"And They Did So": Following Orders Given by Old Joshua
Kristin De Troyer

Sarah and Hagar: What Have I to Do with Them?
Judith E. McKinlay

Their Hermeneutics Was Strange! Ours Is a Necessity! Rereading Vashti as African-South African Women
Madipoane Masenya (ngwana' Mphahlele)

Mothers Bewailing: Reading Lamentations
Archie Chi Chung Lee

The History of Women in Ancient Israel: Theory, Method, and the Book of Ruth
Esther Fuchs

No Road: On the Absence of Feminist Criticism of Ezra-Nehemiah
Roland Boer

Scribal Blunder or Textual Plunder? Codex Bezae, Textual-Rhetorical Analysis, and the Diminished Role of Women
Ann Graham Brock

Military Images in Philippians 1–2: A Feminist Analysis of the Rhetorics of Scholarship, Philippians, and Current Contexts
Joseph A. Marchal

Paul and the Rhetoric of Gender
Caroline Vander Stichele and Todd Penner

Why Can't the Heavenly Miss Jerusalem Just Shut Up?
Jorunn Økland

Epilogue: Babies and Bathwater on the Road
Athalya Brenner