SBL Press Bookstore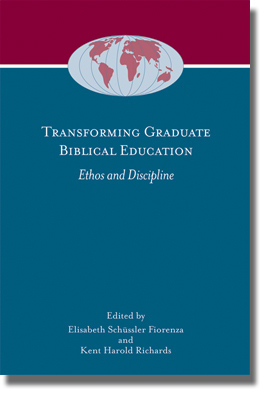 Transforming Graduate Biblical Education: Ethos and Discipline
Elisabeth Schüssler Fiorenza, Kent Harold Richards
Publication Date
November 2010
Paperback
$52.00
This unique collection of essays, originating in seminars held at SBL's Annual and International Meetings, explores the current ethos and discipline of graduate biblical education from different social locations and academic contexts. It includes international voices of well-established scholars who have urged change for some time alongside younger scholars with new perspectives. The individual contributions emerge from a variegated set of experiences in graduate biblical studies and a critical analysis of those experiences. The volume is divided into four areas of investigation. The first section discusses the ethos of biblical studies and social location, and the second explores different cultural-national formations of the discipline. The third section considers the experiences and visions of graduate biblical studies, while the last section explores how to transform the discipline. All the contributions offer ways to transform graduate biblical education so that it becomes a socializing power that, in turn, can transform the present academic ethos of biblical studies.
The contributors are Cynthia M. Baker, Athalya Brenner, Philip Chia, Thomas Fabisiak, Wil Gafney, Gabriella Gelardini, Melanie Johnson-DeBaufre, Nyasha Junior, Brigitte Kahl, Cynthia Briggs Kittredge, Archie C. C. Lee, Kyung Sook Lee, Joseph A. Marchal, Roberto Mata, Monica Jyotsna Melanchthon, Kent Harold Richards, Susanne Scholz, Elisabeth Schüssler Fiorenza, Abraham Smith, Yak-hwee Tan, Hal Taussig, Elaine M. Wainwright, and Vincent L. Wimbush.
Elisabeth Schüssler Fiorenza is the Krister Stendahl Professor at Harvard Divinity School. Kent Harold Richards is Professor of Old Testament and Executive Director Emeritus of the Society of Biblical Literature.