SBL Press Bookstore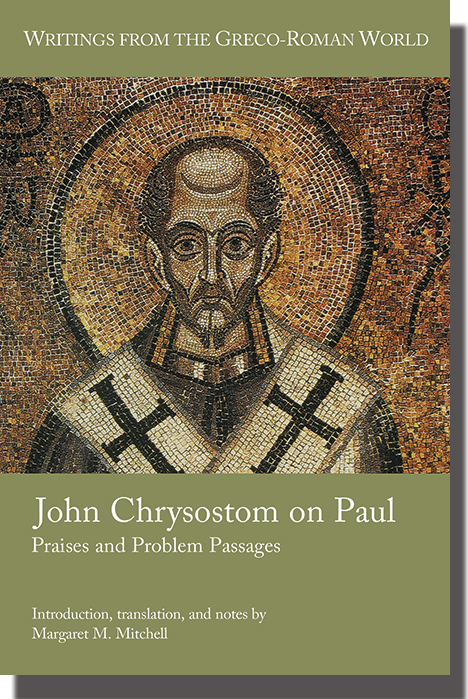 John Chrysostom on Paul: Praises and Problem Passages
Margaret M. Mitchell
Publication Date
November 2022
Hardback
$125.00
A readily accessible text and translation for scholars and students of Paul, ancient Christian history, and biblical reception.
In this new volume in the Writings from the Greco-Roman World series, Margaret M. Mitchell collects twenty-five of John Chrysostom's lesser-known sermons on Pauline passages as well as some that focus on Paul himself. Mitchell presents the Greek text and an original translation of each of these fascinating sermons in a fresh, engaging style that seeks to recapture the vibrancy and dynamism of the live oratory behind the homilies. Extensive notes to each homily evaluate how Chrysostom dealt with some of the ethical, theological, historical, political, and literary problems present in Paul's writings. Mitchell's work on Chrysostom offers a model for scholars to explore and understand how ancient Christian interpreters found in Paul's letters a legacy that was as problematic as it was precious.
Margaret M. Mitchell is the Shailer Mathews Distinguished Service Professor of New Testament and Early Christian Literature at the University of Chicago. Her books include Paul, the Corinthians, and the Birth of Christian Hermeneutics (2010) and The Heavenly Trumpet: John Chrysostom and the Art of Pauline Interpretation (2000).
Download volume front matter, including table of contents and introduction.
Download a printable publication sheet that you can put in your files or give to your librarian or bookstore.
Request a review copy.