SBL Press Bookstore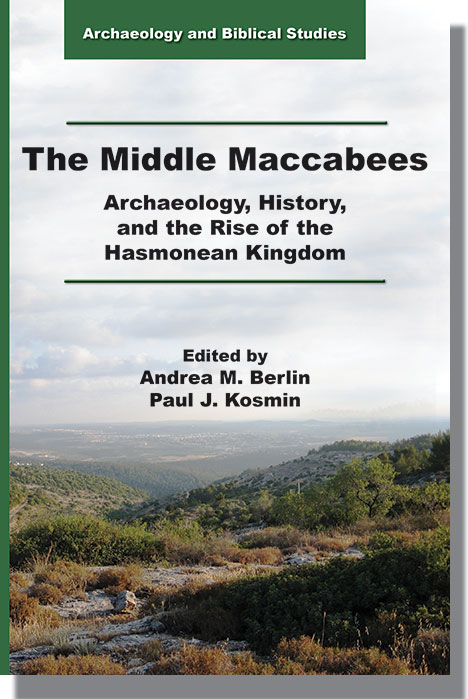 The Middle Maccabees: Archaeology, History, and the Rise of the Hasmonean Kingdom
Andrea M. Berlin, Paul J. Kosmin, editors
Publication Date
March 2021
Paperback
$73.00
A focused, interdisciplinary examination of a tumultuous, history-making era
The Middle Maccabees lays out the charged, complicated beginnings of the independent Jewish state founded in the second century BCE. Contributors offer focused analyses of the archaeological, epigraphic, numismatic, and textual evidence, framed within a wider world of conflicts between the Ptolemies of Egypt, the Seleucids of Syria, and the Romans. The result is a holistic view of the Hasmonean rise to power that acknowledges broader political developments, evolving social responses, and the particularities of local history. Contributors include Uzi 'Ad, Donald T. Ariel, Andrea M. Berlin, Efrat Bocher, Altay Coşkun, Benedikt Eckhardt, Gerald Finkielsztejn, Christelle Fischer-Bovet, Yuval Gadot, Erich Gruen, Sylvie Honigman, Jutta Jokiranta, Paul J. Kosmin, Uzi Leibner, Catharine Lorber, Duncan E. MacRae, Dvir Raviv, Helena Roth, Débora Sandhaus, Yiftah Shalev, Nitsan Shalom, Danny Syon, Yehiel Zelinger, and Ayala Zilberstein.
Features
Up-to-date, generously illustrated essays analyzing the relevant archaeological remains
A revised understanding of how local and imperial histories overlapped and intersected
New analysis of the book of 1 Maccabees as a tool of Hasmonean strategic interest
Andrea M. Berlin is the James R. Wiseman Chair in Classical Archaeology at Boston University. Her most recent book, also coedited with Paul Kosmin, is Spear-Won Land: Sardis, from the King's Peace to the Peace of Apamea (2019).
Paul J. Kosmin is the Philip J. King Professor of Ancient History at Harvard University. He is the author of The Land of the Elephant Kings: Space, Territory, and Ideology in the Seleucid Empire (2014) and Time and Its Adversaries in the Seleucid Empire (2018).
Download volume front matter, including table of contents and introduction.
Download a printable publication sheet that you can put in your files or give to your librarian or bookstore.
"Berlin and Kosmin consistently bring archaeological findings into dialogue with history and exegesis, in most cases beginning with detailed findings of recent work—so recent, in fact, that some of what is cited is part of ongoing projects whose publication is in process. The result infuses the entire endeavor with freshness and engages the reader in a continuing inquiry."
—Bruce Chilton, Review of Biblical Literature