SBL Press Bookstore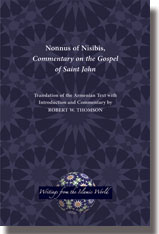 Nonnus of Nisibis, Commentary on the Gospel of Saint John
Robert W. Thomson
Publication Date
September 2014
Paperback
$67.00
A new English translation of the first text translated from Arabic to Armenian for research and classroom use
Robert W. Thomson translates this ninth-century commentary defending the miaphysite theological position of the Armenian church against the chalcedonian position of the Greek Byzantine church. Nonnus's exegesis of the gospel falls in the context of trends in Eastern Christian biblical exposition, primarily the Syrian tradition. Therefore, Thomson emphasizes the parallels in Syriac commentaries on the book of John, noting also earlier Greek writers whose works were influential in Syria. This book is essential reading for anyone interested in the Armenian church and church history.
Features:
Introductory material on the text's history, manuscript traditions, and theological importance
Translation of the Armenian text and commentary
Bibliography covering the Armenian, Greek, Syriac, and Arabic texts as well as secondary sources
Robert W. Thomson is the retired Calouste Gulbenkian Professor of Armenian Studies in the Faculty of Oriental Studies at the University of Oxford. He is the author of numerous books including The Lives of Saint Gregory: The Armenian, Greek, Arabic, and Syriac Versions of the History Attributed to Agathangelos (Caravan Books), and Saint Basil of Caesarea and Armenian Cosmology: A Study of the Armenian Version of Saint Basil's Hexaemeron and its Influence on Medieval Armenian Views about the Cosmos (Peeters).
Download volume front matter, including table of contents and introduction.
Download a printable publication sheet that you can put in your files or give to your librarian or bookstore.