SBL Press Bookstore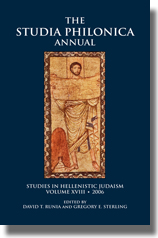 Studia Philonica Annual: Studies in Hellenistic Judaism, Volume XVIII (2006)
David T. Runia, Gregory E. Sterling,
Publication Date
November 2006
Hardback
$42.00
The Studia Philonica Annual is a scholarly journal devoted to furthering the study of Hellenistic Judaism, and in particular the writings and thought of the Hellenistic-Jewish writer Philo of Alexandria (circa 15 B.C.E. to circa 50 C.E.).
David T. Runia is the Master of Queen's College at the University of Melbourne. Gregory E. Sterling is Associate Dean of the Faculty, College of Arts and Letters, and Professor of Theology at the University of Notre Dame.
"The indefatigable compilers of the bibliography and the editors of this issue are again to be congratulated on producing another volume which is extremely useful not only for Philo specialists, but also for those in cognate areas not initiated into his paideia."
— Simon Gathercole, Journal for the Study of the New Testament
CONTENTS
Articles
Moses' Physiologia and the Meaning and Use of
Physikôs
in Philo of Alexandria's Exegetical Method
—Steven Di Mattei
Conscience and Free Speech in Philo
—Philip R. Bosman
Two Short Notes on Philo
—Pieter W. van der Horst
Special Section: Philo's De virtutibus
Introduction
—David T. Runia
Philo's
De virtutibus
in the Perspective of Classical Greek Philosophy
—David Konstan
The Text of Philo's
De virtutibus
—James R. Royse
"The Queen of the Virtues": Eusebeia in Philo of Alexandria
—Gregory E. Sterling
Review Article
Recent work on Plato's
Timaeus
—Julia Annas
Bibliography Section
Philo of Alexandria: An Annotated Bibliography 2003
—D. T. Runia, E. Birnbaum, K. A. Fox, A. C. Geljon, H. M. Keizer, J. P. Martín, R. Radice, J. Riaud, D. Satran, G. Schimanowski, T. Seland
Supplement: Provisional Bibliography 2004–2006
Book Reviews
Reviews by Cameron Boyd-Taylor, Jean Riaud, Erich S. Gruen, Andrei A. Orlov, John W. Marshall, Michael E. Stone, Ronald R. Cox, Maren Niehoff, and David T. Runia