SBL Press Bookstore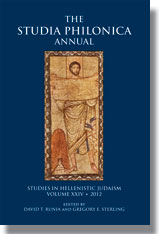 Studia Philonica Annual XXIV, 2012
David T. Runia, Gregory E. Sterling
Publication Date
October 2012
Hardback
$45.00
The Studia Philonica Annual is a scholarly journal devoted to furthering the study of Hellenistic Judaism, and in particular the writings and thought of the Hellenistic-Jewish writer Philo of Alexandria (circa 15 B.C.E. to circa 50 C.E.).
ARTICLES
Ekataerina Matusova, Allegorical Interpretation of the Pentateuch in Alexandria: Inscribing Aristobulus and Philo in a Wider Literary Context
Tatjana Alekniené, L'«extase mystique» dans la tradition platonicienne: Philon d'Alexandrie et Plotin
SPECIAL SECTION: PHILO'S DE AGRICULTURA
Gregory E. Sterling, Philo's De Agricultura: Introduction
David T. Runia, The structure of Philo's allegorical treatise De Agricultura
James R. Royse, Some Observations on the Biblical Text in Philo's De Agricultura
David Konstan, Of Two Minds: Philo On Cultivation
SPECIAL SECTION: PHILO'S THE HYPOTHETICA
Gregory E. Sterling, The Hypothetica: Introduction
Dulcinea Boesenberg, Philo's Descriptions of Jewish Sabbath Practice
Horacio Vela, Philo and the Logic of history
Michael Cover, Reconceptualizing Conquest: Colonial Narratives and Philo's Roman Accuser in the Hypothetica
BIBLIOGRAPHY SECTION
D. T. Runia, K. Berthelot, E. Birnbaum, A. C. Geljon, H. M. Keizer, J. Leonhardt-Balzer, J. P. Martín, M. R. Niehoff, T. Seland,Philo of Alexandria: An Annotated Bibliography 2007
Supplement: A Provisional Bibliography 2008–2010
BOOK REVIEW SECTION
Reviews by Pieter W. van der Horst, James R. Royse, Manuel Alexandre Jr, Gregory E. Sterling, René Bloch, Katell Berthelot, Craig Keener, John T. Conroy, Jr, Harold W. Attridge, Alison G. Salvesen, and David T. Runia
David T. Runia is the Master of Queen's College at the University of Melbourne. Gregory E. Sterling is The Reverend Henry L. Slack Dean and Lillian Claus Professor of New Testament at Yale Divinity School.