SBL Press Bookstore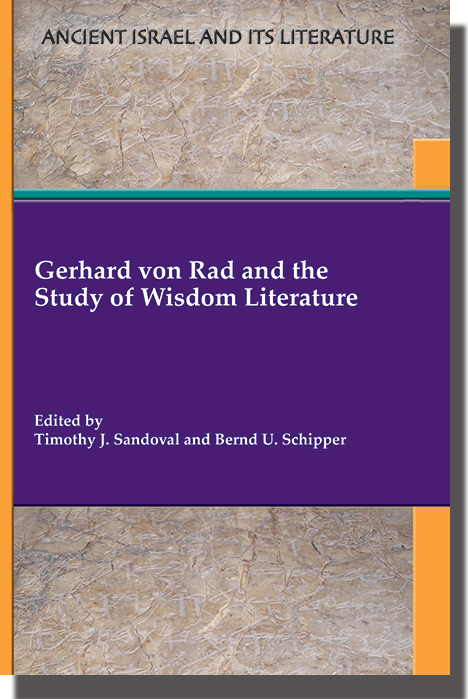 Gerhard Von Rad and the Study of Wisdom Literature
Timothy J. Sandoval, Bernd U. Schipper, editors
Publication Date
November 2022
Paperback
$72.00
Gerhard von Rad's study of biblical wisdom literature in Weisheit in Israel (1970) is widely regarded as one of the most important studies in the field of ancient Israelite wisdom literature. More than fifty years later, contributors to Gerhard von Rad and the Study of Wisdom Literature reevaluate the significance and shortcomings of the late scholar's work and engage new methods and directions for wisdom studies today. Contributors include George J. Brooke, Ariel Feldman, Edward L. Greenstein, Arthur Jan Keefer, Jennifer L. Koosed, Will Kynes, Christl M. Maier, Timothy J. Sandoval, Bernd U. Schipper, Mark Sneed, Hermann Spieckermann, Anne W. Stewart, Raymond C. Van Leeuwen, Stuart Weeks, and Benjamin G. Wright III. This collection of essays is essential reading not only for specialists in wisdom studies but also for scholars and advanced students of the Hebrew Bible in general.
Timothy J. Sandoval is Associate Professor of Hebrew Bible at Brite Divinity School at Texas Christian University. He is the author of The Discourse of Wealth and Poverty in the Book of Proverbs (2005) and the coeditor of Petitioners, Penitents, and Poets: On Prayer and Praying in Second Temple Judaism (2020).
Bernd U. Schipper is professor of Hebrew Bible at the Faculty of Theology at the Humboldt-University of Berlin. He is the author of The Hermeneutics of Torah: Proverbs 2, Deuteronomy, and the Composition of Proverbs 1–9 (2021) and coeditor of Wisdom and Torah: The Reception of "Torah" in the Wisdom Literature of the Second Temple Period (2013).
Download volume front matter, including table of contents and introduction.
Download a printable publication sheet that you can put in your files or give to your librarian or bookstore.
Request a review copy.