SBL Press Bookstore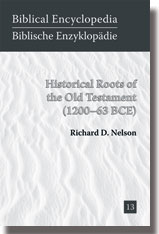 Historical Roots of the Old Testament (1200-63 BCE)
Richard D. Nelson
Publication Date
October 2014
Paperback
$41.00
A thorough overview of the history of ancient Israel for research and classroom use
Richard D. Nelson charts the beginning of the Iron Age and the emergence of Israel and its literature, including the kingdoms of Israel and Judah, the downfall of Israel, Judah in the Assyrian and Babylonian periods, Yehud and Persia, and the Hellenistic period. Each chapter provides a summary of the period under consideration, a historical reconstruction of the period, based on biblical and extrabiblical evidence; a critical study of the biblical literature deriving from or associated with the period, and theological conclusions that readers may draw from the relevant biblical texts.
Features:
Balanced coverage of controversial topics
Extensive bibliographies at the beginning of each chapter
Lists of rulers and key dates for reference and classroom use
Richard D. Nelson is Professor Emeritus of Biblical Hebrew and Old Testament Interpretation at Perkins School of Theology in Dallas, Texas. He is the author of The Historical Books (Abingdon), Deuteronomy: A Commentary (Westminster John Knox), and From Eden to Babel: An Adventure in Bible Study (Chalice).
Download volume front matter, including table of contents and introduction.
Download a printable publication sheet that you can put in your files or give to your librarian or bookstore.
Download a printable standing order sheet to see other available volumes in the series and to give to your librarian to set up a standing order.