SBL Press Bookstore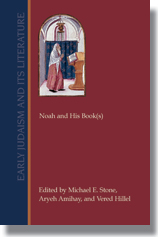 Noah and His Book(s)
Michael E. Stone, Aryeh Amihay, Vered Hillel
Publication Date
June 2010
Paperback
$48.00
In a collection of original essays, this book offers new insights on the question of the lost "book of Noah," as well as studies of Noah's figure in postbiblical literature. It focuses on ancient Jewish literature, including the Septuagint, the Apocrypha and Pseudepigrapha, the Dead Sea Scrolls, Philo, Josephus, and rabbinic literature, but Christian sources, especially Christian iconography, gnostic literature, and Syriac material, as well as later sources such as the Qur'an and Jewish medieval traditions, are also consulted. The contributors are Michael E. Stone, Vered Hillel, Aryeh Amihay, Michael Tuval, Daniel Machiela, Claire Pfann, Esther Eshel, Jeremy Penner, Rebecca Scharbach, Benjamin G. Wright III, Nadav Sharon and Moshe Tishel, Albert Geljon, Sergey Minov, Erica Martin, and Ruth Clements.
Michael E. Stone is Professor Emeritus, Hebrew University, Jerusalem, and the author of numerous books on Second Temple literature and on Armenian studies. Aryeh Amihay is a Ph.D. candidate at Princeton University. Vered Hillel is a professor at the Israel College of the Bible in Jerusalem.
Click here for a printable publication sheet, including table of contents, that you can put in your files or give to your librarian or bookstore.