SBL Press Bookstore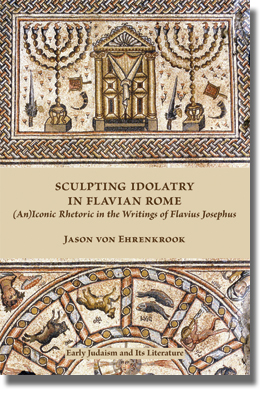 Sculpting Idolatry in Flavian Rome: (An)Iconic Rhetoric in the Writings of Flavius Josephus
Jason von Ehrenkrook
Publication Date
November 2011
Paperback
$32.00
This book investigates the discourse on idolatry and images, especially statues, in the writings of the Jewish historian Flavius Josephus, with a particular focus on his numerous accounts of a contentious and at times iconoclastic relationship between Jews and images. Placing this narrative material within a wider comparative context, both Jewish and non-Jewish, demonstrates that the impression of strict aniconism—uniform and categorical opposition to all figurative art—emerging from Josephus is in part a rhetorical construct, an effort to reframe Jewish iconoclastic behavior not as a resistance to Roman domination but as an expression of certain cultural values shared by Jews and Romans alike. Josephus thus articulates in this discourse on images an idea of Jewish identity that functioned to mitigate an increasingly tense relationship between Romans and Jews in the wake of the Jewish revolt against Rome.
Jason von Ehrenkrook is Perlow Lecturer in Classical Judaism at the University of Pittsburgh.
Click here for a printable publication sheet that you can put in your files or give to your librarian or bookstore.