SBL Press Bookstore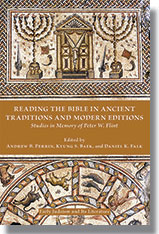 Reading the Bible in Ancient Traditions and Modern Editions: Studies in Memory of Peter W. Flint
Andrew B. Perrin, Kyung S. Baek, Daniel K. Falk, editors
Publication Date
November 2017
Paperback
$85.00
A collection of essays commemorating the career contributions of Peter W. Flint
An international group of scholars specializing in various disciplines of biblical studies, including the Dead Sea Scrolls, Septuagint, Hebrew Bible/Old Testament, Second Temple Judaism, and Christian Origins, present twenty-seven new contributions that commemorate the career of Peter W. Flint (1951-2016). Each essay interacts with and gives fresh insight into the fields shaped by Professor Flint's life work. Part one explores the interplay between text-critical methods, the growth and formation of the Hebrew Scriptures, and the making of modern critical editions. Part two maps some dynamics of scriptural interpretation and reception in ancient Jewish and Christian literatures of the Second Temple period.
Features
Essays that assess the state of the field and reflect on the methods, aims, and best practices for text-criticism and the making of modern critical text editions
Demonstrations of how the processes of scriptural composition, transmission, and reception converge and may be studied together for mutual benefit
Clarification of the state/forms of scripture in antiquity and how scripture was extended, rewritten, and recontextualized by ancient Jewish and Christian scribes and communities
Andrew B. Perrin is Assistant Professor of Religious Studies and Director of the Dead Sea Scrolls Institute at Trinity Western University. His book The Dynamics of Dream-Vision Revelation in the Aramaic Dead Sea Scrolls (2015) was awarded the Manfred Lautenschlaeger Award for Theological Promise.
Kyung S. Baek is Research Fellow of the Canada Research Chair in Dead Sea Scrolls Studies at Trinity Western University. He is the co-editor of Celebrating the Dead Sea Scrolls: A Canadian Collection (2011), The War Scroll, Violence, War and Peace in the Dead Sea Scrolls and Related Literature (2016), and co-author of Leviticus at Qumran: Text and Interpretation (2017).
Daniel K. Falk is Chaiken Family Chair in Jewish Studies and Professor of Classics and Ancient Mediterranean Studies at Pennsylvania State University. He is the author of Daily, Sabbath, and Festival Prayers in the Dead Sea Scrolls (1998) and Parabiblical Texts: Strategies for Extending the Scriptures in the Dead Sea Scrolls (2007).
Download volume front matter, including table of contents and introduction.
Download a printable publication sheet that you can put in your files or give to your librarian or bookstore.
This is Early Judaism and Its Literature 47. Download a printable standing order sheet to see other available volumes in the series and to give to your librarian to set up a standing order.