SBL Press Bookstore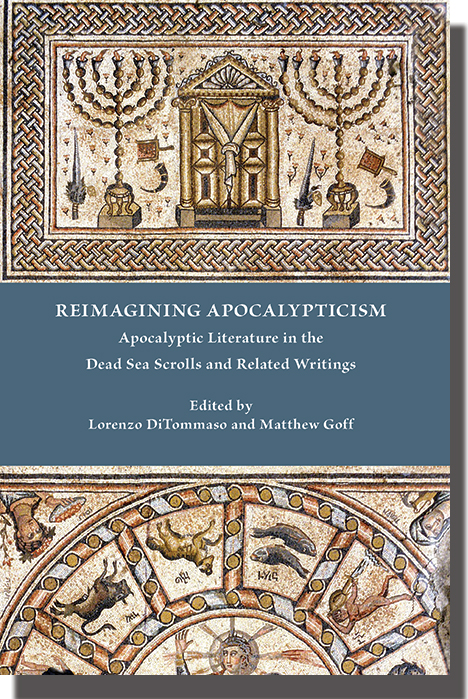 Reimagining Apocalypticism: Apocalyptic Literature in the Dead Sea Scrolls and Related Writings
Lorenzo DiTommaso, Matthew Goff, editors
Publication Date
July 2023
Paperback
$79.00
The Dead Sea Scrolls have expanded the corpus of early Jewish apocalyptic literature and tested scholars' ideas of what apocalyptic means. With all the scrolls now available for study, contributors to this volume engage those texts and many more to reexplore not only definitions of the genre but also the influence of the Dead Sea Scrolls on the study of apocalyptic literature in the Second Temple period and beyond. Part 1 focuses on debates about categories and genre. Part 2 explores ancient Jewish texts from the Second Temple period to the early rabbinic era. Part 3 brings the results of scroll research into dialogue with the New Testament and early Christian writings. Contributors include Garrick V. Allen, Giovanni B. Bazzana, Stefan Beyerle, Dylan M. Burns, John J. Collins, Devorah Dimant, Lorenzo DiTommaso, Frances Flannery, Matthew J. Goff, Angela Kim Harkins, Martha Himmelfarb, G. Anthony Keddie, Armin Lange, Harry O. Maier, Andrew B. Perrin, Christopher Rowland, Alex Samely, Jason M. Silverman, and Rebecca Scharbach Wollenberg.
Lorenzo DiTommaso is Professor of Religions and Cultures at Concordia University Montréal. He is the author or editor of sixteen books, including End-Game: Apocalyptic Video Games, Contemporary Society, and Digital Media Culture (2023) and Music in the Apocalyptic Mode (2023).
Matthew Goff is a professor in the Religion Department at Florida State University. He is coeditor of The Dead Sea Scrolls and the Nag Hammadi Codices (2022) and has a forthcoming monograph on the Apocrypha (Oxford University Press).
Download volume front matter, including table of contents and introduction.
Download a printable publication sheet that you can put in your files or give to your librarian or bookstore.
Request a review copy.