SBL Press Bookstore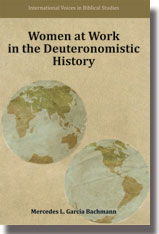 Women at Work in the Deuteronomistic History
Mercedes L. Garcia Bachmann, Mercedes L. Garcia Bachmann
Publication Date
March 2013
Paperback
$57.00
A thorough study of the socio-economic and literary contexts of women in the Deuteronomistic History
Mercedes L. García Bachmann examines the key texts in the Deuteronomistic History that mention women in service occupations: slaves and dependents, cooks, wet nurses, childcare givers, prostitutes, and scribes. The mostly anonymous women who performed this work for others are sometimes mentioned only in a single verse. Consequently, they often are as unrecognized in modern scholarship as they seem in the biblical text. García Bachmann shows that these women were honored not in relation to matters such as sexual purity or marital faithfulness but on account of the valuable service that they provided.
A close examination of unnamed women
A review of previous work in feminist, ancient Near Eastern, biblical, and social-scientific studies
Extensive coverage of Hebrew terms used for women workers
Mercedes L. García Bachmann is Professor of Old Testament at the Instituto Universitario ISEDET in Buenos Aires, Argentina. She is the author of numerous articles and co-editor of Puntos de encuentro (ISEDET).
Click here for a printable publication sheet that you can put in your files or give to your librarian or bookstore.
Click here to view the paperback edition.