SBL Press Bookstore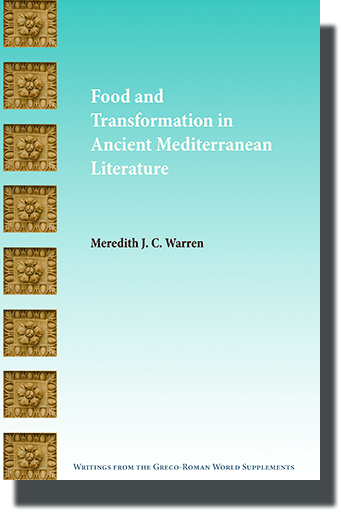 Food and Transformation in Ancient Mediterranean Literature
Meredith J. C. Warren
Publication Date
April 2019
Hardback
$44.95
New research that transforms how to understand food and eating in literature
Meredith J. C. Warren identifies and defines a new genre in ancient texts that she terms hierophagy, a specific type of transformational eating where otherworldly things are consumed. Multiple ancient Mediterranean, Jewish, and Christian texts represent the ramifications of consuming otherworldly food, ramifications that were understood across religious boundaries. Reading ancient texts through the lens of hierophagy helps scholars and students interpret difficult passages in Joseph and Aseneth, 4 Ezra, Revelation 10, and the Persephone myths, among others.
Features:
Exploration of how ancient literature relies on bending, challenging, inverting, and parodying cultural norms in order to make meaning out of genres
Analysis of hierophagy as social action that articulates how patterns of communication across texts and cultures emerge and diverge
A new understanding of previously confounding scenes of literary eating
Meredith J. C. Warren is Lecturer in Biblical and Religious Studies at the University of Sheffield and Director of the Sheffield Institute for Interdisciplinary Biblical Studies. Her previous book is My Flesh Is Meat Indeed: A Nonsacramental Reading of John 6:51–58 (2015).
Download volume front matter, including table of contents and introduction.
Download a printable publication sheet that you can put in your files or give to your librarian or bookstore.
This is Writings from the Greco-Roman World Supplement 14. Download a printable standing order sheet to see other available volumes in the series and to give to your librarian to set up a standing order.
Praise for Food and Transformation in Ancient Mediterranean Literature
This groundbreaking analysis of hierophagy in ancient literature explores the distinct literary function of eating otherworldly food, while also putting these transformative acts in their social and cultural contexts. The author moves deftly from the texts of Ovid and Apuleius to apocalyptic Jewish literature and tales of Christian martyrdom, breaking down traditional barriers in the study of ancient literature. This volume will be essential reading for scholars of antiquity and adds much to our understanding of the representation of consumption and taste in the ancient Mediterranean.
K. C. Rudolph
Lecturer in Classics and Philosophy
Department of Classical and Archaeological Studies
University of Kent
In this brilliant, ground-breaking, and theoretically informed work, Meredith Warren opens up a new area of scholarship. Her careful readings of ancient Jewish and Christian texts deftly demonstrate the importance of the transformative effects of eating both for the authors of ancient texts and for anyone thinking about food practices today.
Candida Moss
Cadbury Professor of Theology
School of Philosophy, Theology and Religion
University of Birmingham