SBL Press Bookstore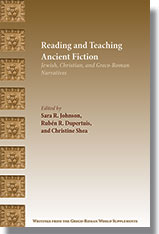 Reading and Teaching Ancient Fiction: Jewish, Christian, and Greco-Roman Narratives
Sara R. Johnson, Ruben R. Dupertuis, Christine Shea, editors
Publication Date
March 2018
Paperback
$43.00
The third volume of research on ancient fiction
This volume includes essays presented in the Ancient Fiction and Early Christian and Jewish Narrative section of the Society of Biblical Literature. Contributors explore facets of ongoing research into the interplay of history, fiction, and narrative in ancient Greco-Roman, Jewish, and Christian texts. The essays examine the ways in which ancient authors in a variety of genre and cultural settings employed a range of narrative strategies to reflect on pressing contemporary issues, to shape community identity, or to provide moral and educational guidance for their readers. Not content merely to offer new insights, this volume also highlights strategies for integrating the fruits of this research into the university classroom and beyond.
Features
Insight into the latest developments in ancient Mediterranean narrative
Exploration of how to use ancient texts to encourage students to examine assumptions about ancient gender and sexuality or to view familiar texts from a new perspective
Close readings of classical authors as well as canonical and noncanonical Jewish and Christian texts
Sara R. Johnson is Associate Professor of Classics and Mediterranean Studies in the Department of Literatures, Languages and Cultures at the University of Connecticut. Her publications include Historical Fictions and Hellenistic Jewish Identity: Third Maccabees in its Cultural Context (University of California Press).
Rubén R. Dupertuis is Associate Professor of Religion in the Religion Department at Trinity University. He is the author of several essays and articles on the Acts of the Apostles and Greek classical traditions and is coeditor of Engaging Early Christian History: Reading Acts in the Second Century (Acumen).
Christine Shea is Professor of Classics in the Department of Modern Languages and Classics at Ball State University. She is a longtime member of the Ancient Fiction and Early Christian and Jewish Narrative Section of the SBL. Her publications include works on the canonical Acts, the Greek romances as models for Christian narratives, Roman epic and Christian identity, among others.
This is Writings from the Greco-Roman WorldSupplements 10. Download a printable standing order sheet to see other available volumes in the series and to give to your librarian to set up a standing order.