SBL Press Bookstore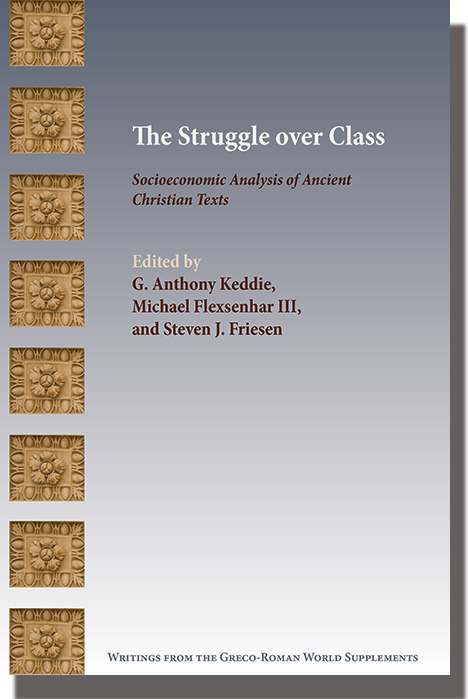 The Struggle over Class: Socioeconomic Analysis of Ancient Christian Texts
G. Anthony Keddie, Michael Flexenhar III, Steven J. Friesen, editors
Publication Date
October 2021
Paperback
$69.00
An interdisciplinary discussion engaging classics, archaeology, religious studies, and the social sciences
The Struggle over Class brings together scholars from the fields of New Testament and early Christianity to examine Christian texts in light of the category of class. Historically rigorous and theoretically sophisticated, this collection presents a range of approaches to, and applications of, class in the study of the epistles, the gospels, Acts, apocalyptic texts, and patristic literature. Contributors Alicia J. Batten, Alan H. Cadwallader, Cavan W. Concannon, Zeba Crook, James Crossley, Lorenzo DiTommaso, Philip F. Esler, Michael Flexsenhar III, Steven J. Friesen, Caroline Johnson Hodge, G. Anthony Keddie, Jaclyn Maxwell, Christina Petterson, Jennifer Quigley, Elisabeth Schüssler Fiorenza, Daniëlle Slootjes, and Emma Wasserman challenge both scholars and students to articulate their own positions in the ongoing scholarly struggle over class as an analytical category.
G. Anthony Keddie is Associate Professor of Early Christian History and Literature at the University of British Columbia. He is the author of Class and Power in Roman Palestine: The Socioeconomic Setting of Judaism and Christian Origins (2019) and coauthor of Jewish Fictional Letters: The Epistle of Aristeas and Related Literature (2018).
Michael Flexsenhar III is Visiting Assistant Professor of Religious Studies at Rhodes College. He is the author of Christians in Caesar's Household: The Emperor's Slaves in the Makings of Christianity (2019).
Steven J. Friesen is the Louise Farmer Boyer Chair in Biblical Studies at the University of Texas at Austin. He is the author of Imperial Cults and the Apocalypse of John: Reading Revelation in the Ruins (2001) and coeditor of Corinth in Contrast: Studies in Inequality (2014).
Download volume front matter, including table of contents and introduction.
Download a printable publication sheet that you can put in your files or give to your librarian or bookstore.