SBL Press Bookstore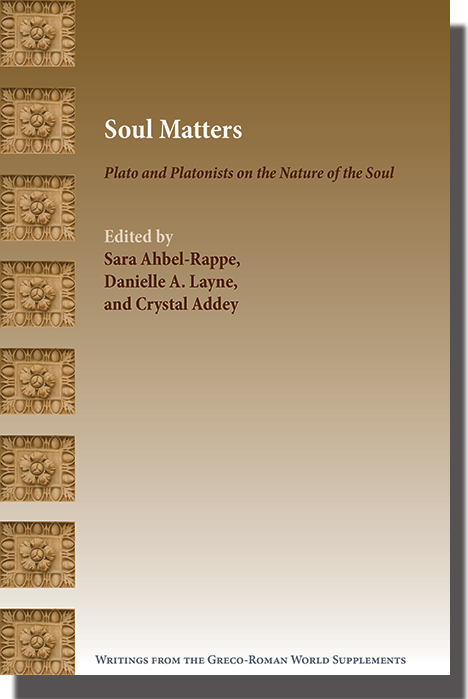 Soul Matters: Plato and Platonists on the Nature of the Soul
Sara Ahbel-Rappe, Danielle A. Layne, Crystal Addey, editors
Publication Date
October 2023
eBook
$80.00
Platonic discourses concerning the soul are incredibly rich and multitiered. Plato's own diverse and disparate arguments and images offer competing accounts of how we are to understand the nature of the soul. Consequently, it should come as no surprise that the accounts of Platonists who engage Plato's dialogues are often riddled with questions. This volume takes up the theories of well-known philosophers and theologians, including Plato, Plotinus, Proclus, the emperor Julian, and Origen, as well as lesser-known but equally important figures in a collection of essays on topics such as transmigration of the soul, the nature of the Platonist enlightenment experience, soul and gender, pagan ritual practices, Christian and pagan differences about the soul, mental health and illness, and many other topics. Contributors include Crystal Addey, Sara Ahbel-Rappe, Dirk Baltzly, Robert Berchman, Jay Bregman, Luc Brisson, Kevin Corrigan, John Dillon, John F. Finamore, Lloyd P. Gerson, Dorian Gieseler Greenbaum, Elizabeth Hill, Sarah Klitenic Wear, Danielle A. Layne, Ilaria L. E. Ramelli, Gregory Shaw, Svetla Slaveva-Griffine, Suzanne Stern-Gillet, Harold Tarrant, Van Tu, and John D. Turner.
Sara Ahbel-Rappe is Professor in the Department of Classical Studies, University of Michigan, Ann Arbor. She is the author of Reading Neoplatonism (2000) and Damascius' Problems and Solutions Concerning First Principles (2010).
Danielle A. Layne is Professor of Philosophy at Gonzaga University. She is the author of the translation and commentary Plotinus: Ennead I.5, On Whether Well Being Increases with Time (forthcoming) and coeditor of Otherwise Than the Binary: New Feminist Readings of Ancient Greek Philosophy and Culture (2022).
Crystal Addey is a Lecturer in the Department of Classics, School of the Human Environment, College of Arts, Celtic Studies and Sciences, at University College Cork. She is the author of Divination and Theurgy in Neoplatonism: Oracles of the Gods (2014) and editor of Divination and Knowledge in Greco-Roman Antiquity (2021).
Download volume front matter, including table of contents and introduction.
Download a printable publication sheet that you can put in your files or give to your librarian or bookstore.
Request a review copy.