SBL Press Bookstore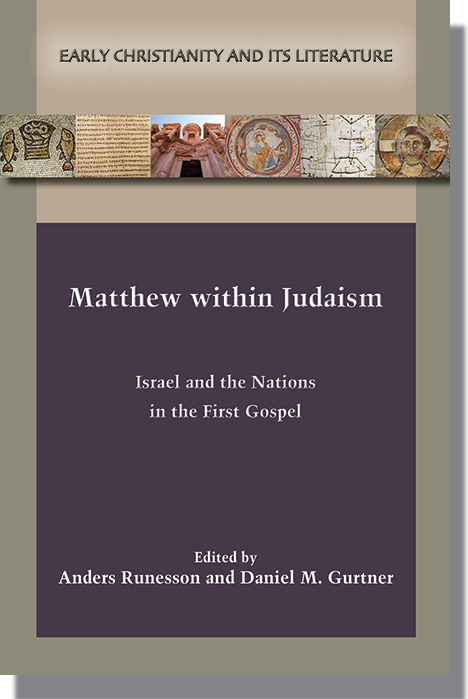 Matthew within Judaism: Israel and the Nations in the First Gospel
Anders Runesson, Daniel M. Gurtner, editors
Publication Date
July 2020
eBook
$77.00
In this collection of essays, leading New Testament scholars reassess the reciprocal relationship between Matthew and Second Temple Judaism. Some contributions focus on the relationship of the Matthean Jesus to torah, temple, and synagogue, while others explore theological issues of Jewish and gentile ethnicity and universalism within and behind the text.
Anders Runesson is Professor of New Testament at the University of Oslo, Norway. His publications include the award-winning Divine Wrath and Salvation in Matthew: The Narrative World of the First Gospel (2016), The Origins of the Synagogue: A Sociohistorical Study (2001), and Judaism for Gentiles: Reading Paul beyond the Parting of the Ways Paradigm (forthcoming).
Daniel M. Gurtner is the author of Exodus: A Commentary on the Greek Text of Codex Vaticanus (2013) and Second Baruch: A Critical Edition of the Syriac Text (2009). With Loren T. Stuckenbruck, he is the coeditor of the award-winning T&T Clark Encyclopedia of Second Temple Judaism (2 vols., 2020). He is currently writing the Word Biblical Commentary on the Gospel of Matthew.
Praise for Matthew within Judaism
Unlike most collections by multiple authors, this volume displays a remarkable unity. The contributors consistently argue for understanding Matthew in its entirety as a thoroughly Jewish text, or as being, as they put it, "within Judaism." Even if one is not wholly on board, the chapters are unfailingly informative and provocative, and they move the discussion forward in multiple, significant ways.
Dale C. Allison, Jr., Richard J. Dearborn Professor of New Testament, Princeton Theological Seminary
This volume is a challenge to biblical scholars, theologians, students, and preachers to see Matthew's Gospel for what it is, a Jewish gospel. Many continue to regard the First Gospel as anti-Jewish and its message as a replacement for Judaism. Matthew within Judaism, a collection of essays by notable scholars, places the gospel within the Judaic context where it belongs. Their research opens a vast field of knowledge. The topics covered locate Matthew within a developing multi-faceted late Second Temple and post-Temple Judaism. It also covers the broader first-century context as well as updating us on the current state of New Testament studies. As such it will provide a rich and valuable source for anyone who longs to hear the historical voice of Matthew.
Layang Seng Ja, Kachin Theological College and Seminary, Myanmar
Matthew's Gospel represents a form of Judaism. That is the radical position argued with great clarity and force in this incisive set of essays. Together these studies seek to provide better arguments for locating the Gospel of Matthew within the matrix of diverse expressions of Judaism that existed during the late Second Temple period. Carefully assessing a wide-range of topics using evidence from the comparanda of broadly contemporary Jewish texts, the authors advocate the revolutionary idea that Matthew's Gospel is best understood as a Jewish rather than a Christian text. For those wanting to interact with the best articulation of this idea, there is no better assembly of arguments for this Matthew-within-Judaism point of view than this magnificent collection of studies.
Paul Foster, Professor of New Testament and Early Christianity, School of Divinity, University of Edinburgh
In this rich volume, Anders Runesson and Dan Gurtner bring together an impressive array of scholars to propose "a new historical paradigm," an approach to reading Matthew which treats it not merely against the background of Second Temple Judaism but as an expression of it. Essays by leading voices old and new in the study of Matthew and Second Temple Judaism tackle key questions: torah, temple; Israel and the nations and ethnic identity; kingship and the crowds; purity and eschatology; receptions of Matthew both Jewish and Gentile. While the essays are not univocal—there is debate within the volume as to the precise location of Matthew within Judaism—they are always insightful, throwing new light, often from new angles, on first-century Judaism and Matthew within it. It is a volume to spark debate and carry Matthean studies forward; in its contribution to the study of both Matthew and Second Temple Judaism it is essential.
Catherine Sider Hamilton, Professor of New Testament and New Testament Greek, Wycliffe College, University of Toronto
Download volume front matter, including table of contents and introduction.
Download a printable publication sheet that you can put in your files or give to your librarian or bookstore.
This is Early Christianity and Its Literature 27.See more available volumes in the ECL series.