SBL Press Bookstore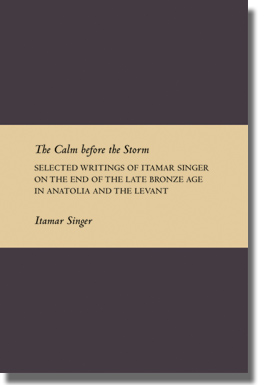 The Calm before the Storm: Selected Writings of Itamar Singer on the End of the Late Bronze Age in Anatolia and the Levant
Itamar Singer
Publication Date
October 2011
Paperback
$72.00
In a career that has spanned nearly four decades, more than thirty of them as Professor of Hittitology in the Department of Archaeology and Ancient Near Eastern Cultures at Tel Aviv University, Itamar Singer has had a profound impact on the field of ancient Near Eastern studies, and Hittite studies in particular. His wide-ranging contributions have nowhere been more deeply felt than in the historical reconstruction of the international affairs of the thirteenth century B.C.E.—the end of the Bronze Age in the eastern Mediterranean. The essays collected in this volume are a testament to the impact of his research on understanding Hatti's diplomatic relations with the other great powers in this critical period of human history and on elucidating the complex dynamics that led to the disintegration of the Hittite Empire.
Itamar Singer is Professor of Ancient Near Eastern History and Cultures at Tel Aviv University. He is the author of The Hittite KI.LAM Festival (Harrassowitz), Muwatalli's Prayer (American Schools of Oriental Research), Hittite Prayers (Society of Biblical Literature), and the co-author of The General's Letter from Ugarit (Tel Aviv University).
Click here for the volume front matter, including the table of contents and preface.
Click here for a printable publication sheet that you can put in your files or give to your librarian or bookstore.