SBL Press Bookstore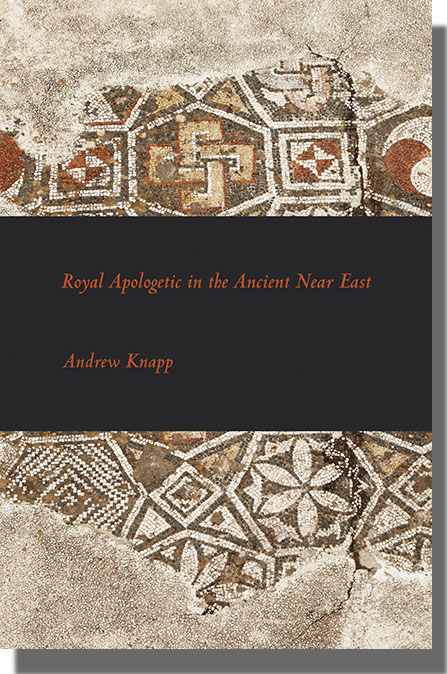 Royal Apologetic in the Ancient Near East
Andrew Knapp
Publication Date
November 2015
Paperback
$62.00
A fresh exploration of apologetic material that pushes beyond form criticism
Andrew Knapp applies modern genre theory to seven ancient Near Eastern royal apologies that served to defend the legitimacy of kings who came to power under irregular circumstances. Knapp examines texts and inscriptions related to Telipinu, Hattusili III, David, Solomon, Hazael, Esarhaddon, and Nabonidus to identify transhistorical common issues that unite each discourse.
Features:
Compares Hittite, Israelite, Aramean, Assyrian, and Babylonian apologies
Examination of apologetic as a mode instead of a genre
Charts and illustrations
Andrew Knapp received his Ph.D. from The Johns Hopkins University.
Download volume front matter, including table of contents and introduction.
Download a printable publication sheet that you can put in your files or give to your librarian or bookstore.
Endorsements
"Amply documented and philologically skillful, Knapp's Royal Apologetic enlightens discussion of a well-known genre in ancient Near Eastern royal literature, winning through from the literary evidence to historical reconstruction: a bravura performance. Knapp exhibits nice judgment throughout. This stimulating study will inspire much further scholarship, particularly in the area of royal, and, one hopes, other apologies in the ancient world."
—Baruch Halpern, Covenant Foundation Professor of Jewish Studies and Professor of Religion and Linguistics, University of Georgia
"This volume assembles in one place the most important exemplars of ancient Near Eastern royal apologetic literature. Andrew Knapp offers here a careful study, reinvigorating the comparative study of these texts and placing our understanding of them on firmer theoretical footing. This groundbreaking study proposes new solutions to old problems through sophisticated philological and historical analysis; it will serve as a necessary resource for anyone with an interest in the political rhetoric of the ANE."
—Jeremy M. Hutton, Associate Professor of Classical Hebrew Language and Biblical Literature, University of Wisconsin-Madison