SBL Press Bookstore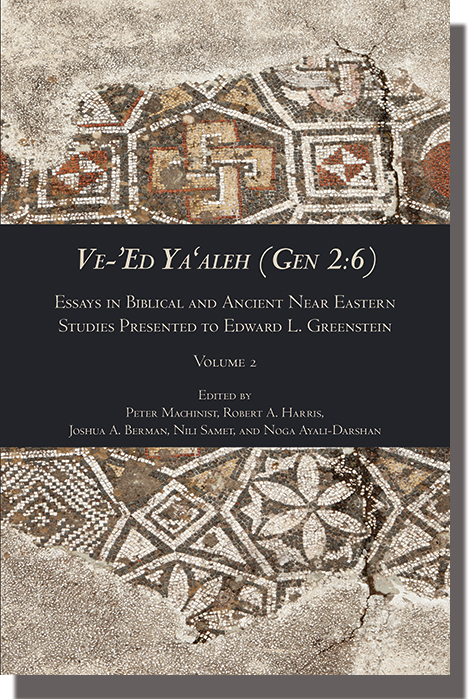 Ve-'Ed Ya'aleh (Gen 2:6), Volume 2: Essays in Biblical and Ancient Near Eastern Studies Presented to Edward L. Greenstein
Peter Machinist, Robert A. Harris, Joshua A. Berman, Nili Samet, Noga Ayali-Darshan, editors
Publication Date
September 2021
Hardback
$100.00
Sixty-six colleagues, friends, and former students of Edward L. Greenstein present essays honoring him upon his retirement. Throughout Greenstein's half-century career he demonstrated expertise in a host of areas astonishing in its breadth and depth, and each of the essays in these two volumes focuses on an area of particular interest to him. Volume 1 includes essays on ancient Near Eastern studies, Biblical Hebrew and Northwest Semitic languages, and biblical law and narrative. Volume 2 includes essays on biblical wisdom and poetry, biblical reception and exegesis, and postmodern readings of the Bible.
Peter Machinist is the Hancock Research Professor of Hebrew and Other Oriental Languages at Harvard University.
Robert A. Harris is Professor of Bible and Ancient Semitic Languages in the Department of Bible and Jewish Theological Seminary.
Joshua A. Berman is Associate Professor in the The Zalman Shamir Bible Department at Bar-Ilan University.
Nili Samet is senior Lecturer in the Zalman Shamir Bible Department at Bar-Ilan University.
Noga Ayali-Darshan is Senior Lecturer in the Department of Hebrew and Semitic Languages at Bar Ilan University.
Download volume front matter, including table of contents and introduction.
Download a printable publication sheet that you can put in your files or give to your librarian or bookstore.
View Volume 1 here.