SBL Press Bookstore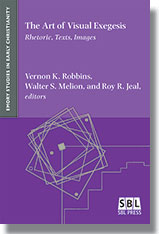 The Art of Visual Exegesis: Rhetoric, Texts, Images
Vernon K. Robbins, Walter S. Melion, Roy R. Jeal, editors
Publication Date
April 2017
Paperback
$72.00
A critical study for those interested in the intersection of art and biblical interpretation
With a special focus on biblical texts and images, this book nurtures new developments in biblical studies and art history during the last two or three decades. Analysis and interpretation of specific works of art introduce guidelines for students and teachers who are interested in the relation of verbal presentation to visual production. The essays provide models for research in the humanities that move beyond traditional disciplinary boundaries erected in previous centuries. In particular, the volume merges recent developments in rhetorical interpretation and cognitive studies with art historical visual exegesis. Readers will master the tools necessary for integrating multiple approaches both to biblical and artistic interpretation.
Features
Resources for understanding the relation of texts to artistic paintings and images
Tools for integrating multiple approaches both to biblical and artistic interpretation
Sixty images and fifteen illustrations
Vernon K. Robbins is Professor of New Testament and Comparative Sacred Texts in the Department and Graduate Division of Religion at Emory University. He launched sociorhetorical interpretation in New Testament studies with Jesus the Teacher (1984), developed it programmatically with Exploring the Texture of Texts and The Tapestry of Early Christian Discourse (1996), and expanded it using conceptual blending and integration theory in volume 1 of The Invention of Christian Discourse (2009). He also coedited Jesus and Mary Reimagined in Early Christian Literature (2015).
Walter S. Melion is Asa Griggs Candler Professor of Art History at Emory University. He has published extensively on Dutch and Flemish art and art theory of the Sixteenth and Seventeenth centuries, on Jesuit image-theory, on the relation between theology and aesthetics in the early modern period, and on the artist Hendrick Goltzius. His books include Shaping the Netherlandish Canon: Karel van Mander's 'Schilder-Boeck' (1991) and The Meditative Art: Studies in the Northern Devotional Print, 1550-1625 (2009). He has most recently coedited Imago Exegetica: Visual Images as Exegetical Instruments, 1400-1700 (2014). He was elected Foreign Member of the Royal Netherlands Academy of Arts and Sciences in 2010.
Roy R. Jeal is Professor of Religion at Booth University College and is a member of the Editorial Board of the SBL Press Rhetoric of Religious Antiquity Group. He is the author of Integrating Theology and Ethics in Ephesians: The Ethos of Communication (2000), Colossians-Philemon: A Beginning-Intermediate Greek Reader (2015), and Exploring Philemon: Freedom, Brotherhood, and Partnership in the New Society (2015).
Download volume front matter, including table of contents and introduction.
Download a printable publication sheet that you can put in your files or give to your librarian or bookstore.
Download a printable standing order sheet to see other available volumes in the series and to give to your librarian to set up a standing order.