SBL Press Bookstore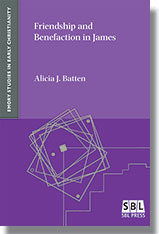 Friendship and Benefaction in James
Alicia J. Batten
Publication Date
June 2017
Hardback
$52.00
NowavailablefromSBLPress
Employing social description, social scientific models, and rhetorical analysis, Alicia J. Batten argues that the letter of James is conversant with the topic of friendship within Greek and Roman literature, as well as within various texts of early Christianity. She illustrates how James drew upon some of the language and concepts related to friendship with an intriguing density to advocate resistance to wealth, avoidance of rich patrons, and reliance upon God.
Features:
Use of friendship, benefaction, and patronage as lenses through which James and related texts can be viewed
A strong case for how the letter appels to the language and ideas of friendship with regard to God's relationships with humans
Exploration of the relationship between the book of James and the teachings of Jesus
Alicia J. Batten is Associate Professor of Religious Studies and Theological Studies at Conrad Grebel University College at the University of Waterloo, Canada. She serves on several academic editorial boards and is currently writing a commentary on the Letter of James for the Illuminations Commentary Series (Eerdmans).
Download volume front matter, including table of contents and introduction.
Download a printable publication sheet that you can put in your files or give to your librarian or bookstore.
Download a printable standing order sheet to see other available volumes in the series and to give to your librarian to set up a standing order.