SBL Press Bookstore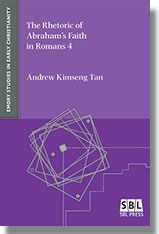 The Rhetoric of Abraham's Faith in Romans 4
Andrew Kimseng Tan
Publication Date
April 2018
Paperback
$47.00
Explore Romans 4 from a sociorhetorical perspective
Andrew Kimseng Tan examines Romans using sociorhetorical interpretation to determine how Paul attempted to alleviate dissension between Judean (or "Jewish") and non-Judean (or "gentile") Christians. Through his analysis of Paul's rhetoric, Tan reveals that Paul used Abraham's faith in Genesis to demonstrate that the both groups were equally children and heirs of Abraham whose acceptance by God was through the same kind of faith that Abraham possessed, not through the Mosaic law, which Judean Christians claimed gave them a special honored status with God.
Features
A model for the application of sociorhetorical interpretation for analyzing close readings of biblical texts
A demonstration of the persuasive power of Romans 4 through the use of sociorhetorical interpretation
Exploration of the relationships between important theological topics such as resurrection, the Mosaic law, the Holy Spirit, righteousness, ethical living, and eschatological salvation
Andrew Kimseng Tan, whose PhD is from the University of Cape Town, serves as pastor of Tree of Life Christian Church in Singapore.
Download volume front matter, including table of contents and introduction.
Download a printable publication sheet that you can put in your files or give to your librarian or bookstore.
This is Emory Studies in Early Christianity 20.Download a printable standing order sheet to see other available volumes in the series and to give to your librarian to set up a standing order.