SBL Press Bookstore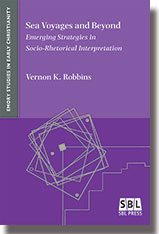 Sea Voyages and Beyond: Emerging Strategies in Socio-Rhetorical Interpretation
Vernon K. Robbins
Publication Date
August 2018
Paperback
$57.00
Explore insights, methodologies, and advances in socio-rhetorical interpretation
Essays in this volume from Vernon K. Robbins merge social and rhetorical strategies of interpretation and set the stage for how socio-rhetorical interpretation has developed in the context of research into the rhetoric of religious antiquity. This book contains "By Land and By Sea: The We Passages and Ancient Sea Voyages" (1978), which initially received widespread praise and then became an object of significant criticism. The volume includes Robbins's varied, detailed responses to both encouragement and critique of his approach.
Features:
Introduction to the collection by David B. Gowler
Twelve essays that programmatically study early Christian texts using resources from the social sciences
Reflections on the future of socio-rhetorical criticism
Vernon K. Robbins is Professor of New Testament and Comparative Sacred Texts in the Department and Graduate Division of Religion at Emory University. He launched socio-rhetorical interpretation in New Testament studies with Jesus the Teacher: A Socio-Rhetorical Interpretation of Mark (1984).
This is Emory Studies in Early Christianity 14. Download a printable standing order sheet to see other available volumes in the series and to give to your librarian to set up a standing order.