SBL Press Bookstore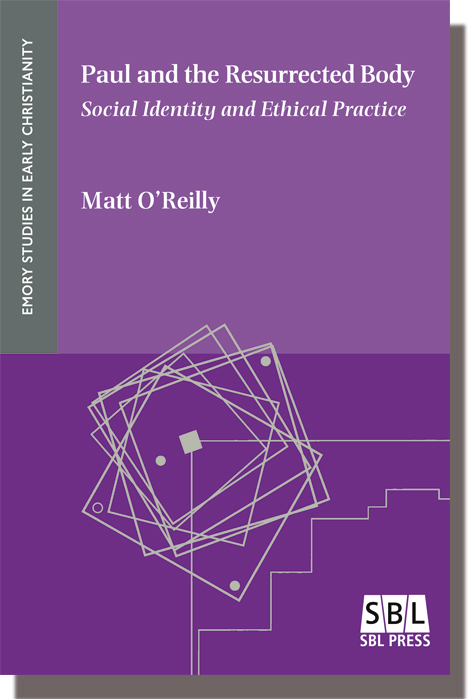 Paul and the Resurrected Body: Social Identity and Ethical Practice
Matt O'Reilly
Publication Date
March 2020
Paperback
$41.00
A new reading of Pauline theology, ethics, and eschatology grounded in social-identity theory and sociorhetorical criticism
Readers often think of Paul's attitude toward the resurrection of the body in individual terms: a single body raised as the climax of an individual's salvation. In Paul and the Resurrected Body: Social Identity and Ethical Practice, Matt O'Reilly makes the case that, for Paul, the social dimension of future bodily resurrection is just as important, if not more so. Through a close reading of key texts in the letters to the Corinthians, Romans, and Philippians, O'Reilly argues that resurrection is integral to Paul's understanding of Christian social identity. In Paul's theological reasoning, a believer's hope for the future depends on being identified as part of the people of God who will be resurrected.
Features
A clarification of the eschatological basis for Paul's ethical expectations
Exploration of the social significance of Paul's theological reasoning
An integration of ancient rhetorical theory with contemporary social-identity theory
Matt O'Reilly is Lead Pastor at Hope Hull United Methodist Church near Montgomery, Alabama, a fellow of the Center for Pastor Theologians, and an adjunct member of the faculties of Wesley Biblical Seminary and Houston Baptist University. He is the author of The Letters to the Thessalonians (forthcoming).
Download volume front matter, including table of contents and introduction.
Download a printable publication sheet that you can put in your files or give to your librarian or bookstore.
This is Emory Studies in Early Christianity 22. Visit the series page to view other available ESEC volumes for purchase.