SBL Press Bookstore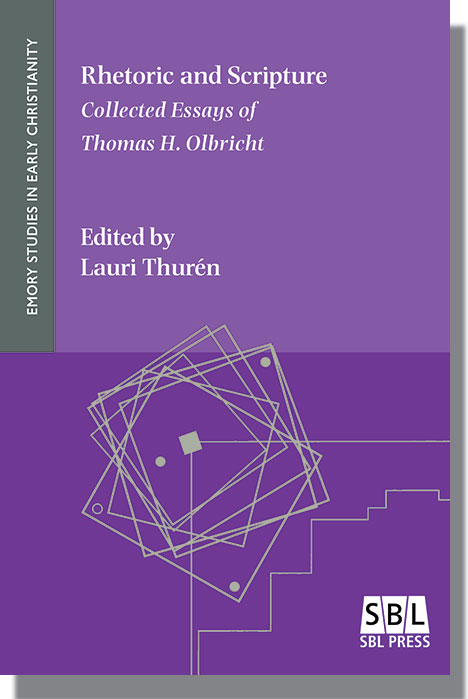 Rhetoric and Scripture: Collected Essays of Thomas H. Olbricht
Thomas H. Olbricht; Lauri Thurén, editor
Publication Date
January 2021
eBook
$62.00
This book offers a unique overview of the development of rhetorical criticism both in North America and internationally through the work of pioneering New Testament scholar Thomas H. Olbricht. Lauri Thurén has gathered nineteen of Olbricht's essays as a guidebook to rhetorical criticism for students, clergy, and scholars. The range of essays from throughout Olbricht's career illuminate the history of rhetorical criticism and reflect the different motivations of ancient and contemporary rhetorical approaches. Essays focus on the history of biblical rhetorical analysis, the rhetorical analysis of biblical texts, the characteristics of rhetorical analysis, and types of biblical rhetorical criticism. A foreword by Thurén and a memorial essay by Carl R. Holladay contextualize Olbricht's work. Anyone interested in the rhetorical study of the New Testament will find this volume inspiring and informative.
Thomas H. Olbricht was Distinguished Professor Emeritus of Religion at Pepperdine University. He published his autobiography, Reflections on My Life in the Kingdom and the Academy in 2012. His coedited volumes include Paul and Pathos (2001), Early Christianity and Classical Culture: Comparative Studies in Honor of Abraham J. Malherbe (2003), and Rhetoric, Ethic and Moral Persuasion in Biblical Discourse (2005).
Lauri Thurén is Professor of Biblical Studies at the University of Eastern Finland.
Download volume front matter, including table of contents and introduction.
Download a printable publication sheet that you can put in your files or give to your librarian or bookstore.