SBL Press Bookstore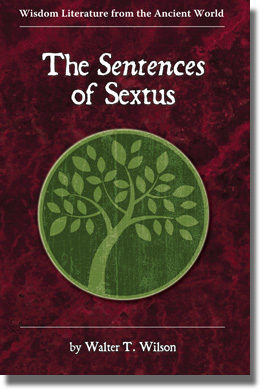 The Sentences of Sextus
Walter T. Wilson,
Publication Date
November 2012
Paperback
$54.00
Described by Origen as a writing that "even the masses of believers have read," The Sentences of Sextus offers unique insights into popular Christian thought during the late second century C.E. Although it draws extensively on canonical texts for the composition of its sayings, it is especially fascinating for the manner in which it integrates these texts with material derived from two generically similar collections of Pythagorean maxims. This volume provides a critical edition including evidence from the Greek, Latin, Syriac, and Coptic versions; a new translation; and the first commentary for the Sentences, an important document for investigating the history of early Christian wisdom, asceticism, and ethics.
Walter T. Wilson is Professor of New Testament at Candler School of Theology, Emory University. He is the author of six books dealing with the New Testament and its world, including The Sentences of Pseudo-Phocylides (de Gruyter, 2005), Pauline Parallels: A Comprehensive Guide (Westminster John Knox, 2009), and Philo of Alexandria: On Virtues—Introduction, Translation, and Commentary (Brill, 2010).
Download volume front matter, including table of contents and introduction.