SBL Press Bookstore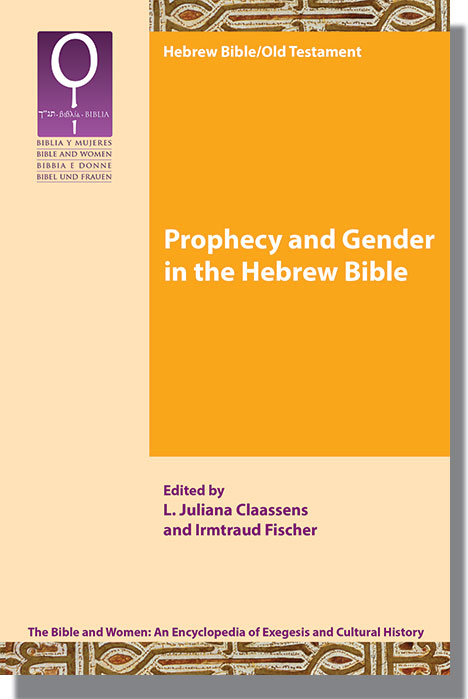 Prophecy and Gender in the Hebrew Bible
L. Juliana Claassens, Irmtraud Fischer, editors
Publication Date
May 2021
Paperback
$56.00
Multifaceted insights into female life in prophetic contexts
Both prophets and prophetesses shared God's divine will with the people of Israel, yet the voices of these women were often forgotten due to later prohibitions against women teaching in public. This latest volume of the Bible and Women series focuses on the intersection of gender and prophecy in the Former Prophets (Joshua to 2 Kings) as well as in the Latter Prophets of the Hebrew Bible. Essays examine how women appear in the iconography of the ancient world, the historical background of the phenomenon of prophecy, political and religious resistance by women in the biblical text, and gender symbolism and constructions in prophetic material as well as the metaphorical discourse of God. Contributors Michaela Bauks, Athalya Brenner-Idan, Ora Brison, L. Juliana Claassens, Marta García Fernández, Irmtraud Fischer, Maria Häusl, Rainer Kessler, Nancy C. Lee, Hanne Løland Levinson, Christl M. Maier, Ilse Müllner, Martti Nissinen, Ombretta Pettigiani, Ruth Poser, Benedetta Rossi, Silvia Schroer, and Omer Sergi draw insight into the texts from a range of innovative gender-oriented approaches.
Juliana Claassens is Professor in Old Testament and Head of the Gender Unit at the Faculty of Theology, Stellenbosch University. She is the author of Writing/Reading to Survive: Biblical and Contemporary Trauma Narratives in Conversation (2020) and Claiming Her Dignity: Female Resistance in the Old Testament (2016).
Irmtraud Fischer is Professor of Old Testament Studies at the Faculty of Theology of the University of Graz, Austria. She is the one of the main editors of The Bible and Women series and author of Women Who Wrestled with God: Biblical Stories of Israel's Beginnings (2005).