SBL Press Bookstore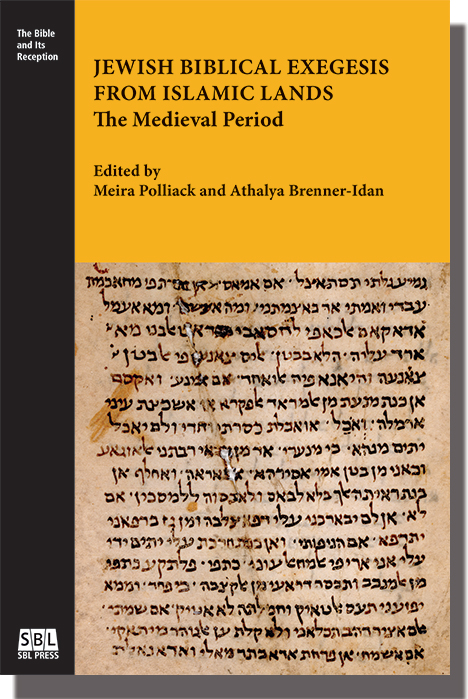 Jewish Biblical Exegesis from Islamic Lands: The Medieval Period
Meira Polliack, Athalya Brenner Idan, editors
Publication Date
November 2019
Paperback
$49.00
An accessible point of entry into the rich medieval religious landscape of Jewish biblical exegesis
Medieval Judeo-Arabic translations of the Hebrew Bible and their commentaries provide a rich source for understanding a formative period in the intellectual, literary, and cultural history and heritage of Jews in Islamic lands. The carefully selected texts in this volume offer intriguing insight into Arabic translations and commentaries by Rabbanite and Karaite Jewish exegetes from the tenth to the twelfth centuries CE, arranged according to the three divisions of the Torah, the Former and Latter Prophets, and the Writings. Each text is embedded within an essay discussing its exegetical context, reception, and contribution.
Features:
Focus on underrepresented medieval Jewish commentators of the Eastern world
A list of additional resources, including major Judeo-Arabic commentators in the medieval period
Previously unpublished texts from the Cairo Geniza
Meira Polliack is Professor of Bible at Tel-Aviv University. She is the author of The Karaite Tradition of Arabic Bible Translation (1997) and coauthor of Yefet Ben 'Eli's Commentary on Hosea: Annotated Edition, Hebrew Translation and Introduction (2009). She was one of the founders, directors, and principal researchers of the internationally led study project Biblia Arabica: The Bible in Arabic among Jews, Christians and Muslims (https://biblia-arabica.com).
Athalya Brenner-Idan is Professor Emerita of the Hebrew Bible/Old Testament Chair at the University of Amsterdam and is currently affiliated as research associate with the Orange Free State University, South Africa. Brenner-Idan was president of the Society of Biblical Literature (2015). She is the author of The Israelite Woman: Social Role and Literary Type in Biblical Narrative (1985, 2014, also translated into Japanese, Portuguese, and Hebrew) and I Am: Biblical Women Tell Their Own Stories (2005).
Download volume front matter, including table of contents and introduction.
Download a printable publication sheet that you can put in your files or give to your librarian or bookstore.