SBL Press Bookstore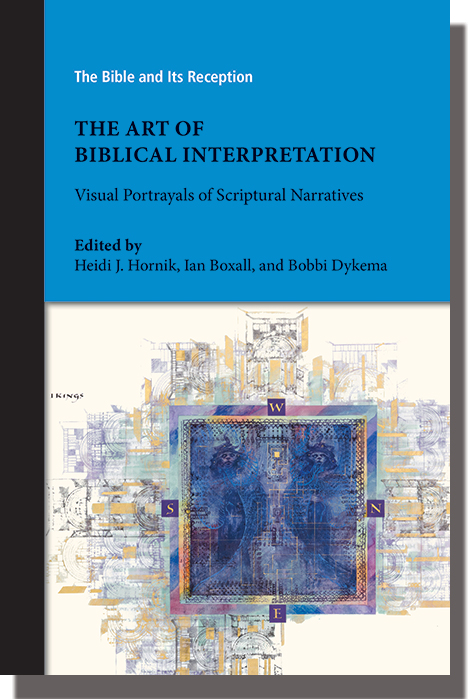 The Art of Biblical Interpretation: Visual Portrayals of Scriptural Narratives
Heidi J. Hornik, Ian Boxall, Bobbi Dykema, editors
Publication Date
September 2021
Paperback
$52.00
A richly illustrated collection of essays on visual biblical interpretation
For centuries Christians have engaged their sacred texts as much through the visual as through the written word. Yet until recent decades, the academic disciplines of biblical studies and art history largely worked independently. This volume bridges that gap with the interdisciplinary work of biblical scholars and art historians. Focusing on the visualization of biblical characters from both the Old and New Testaments, essays illustrate the potential of such collaboration for a deeper understanding of the Bible and its visual reception. Contributions from Ian Boxall, James Clifton, David B. Gowler, Jonathan Homrighausen, Heidi J. Hornik, Jeff Jay, Christine E. Joynes, Yohana A. Junker, Meredith Munson, and Ela Nuțu foreground diverse cultural contexts and chronological periods for scholars and students of the Bible and art.
Heidi J. Hornik is Professor of Art History and Chair of the Department of Art & Art History at Baylor University in Waco, Texas. Her recent publications include The Art of Christian Reflection (2018) and, with Mikeal C. Parsons, The Acts of the Apostles through the Centuries (2016).
Ian Boxall is Associate Professor of New Testament at The Catholic University of America in Washington, DC. His recent publications include Discovering Matthew (2014) and Matthew through the Centuries (2019).
Bobbi Dykema is currently serving as pastor at First Church of the Brethren, Springfield, Illinois. Her most recent book is Luther, Cranach, and the Passional Christi und Antichristi (2017).
Download volume front matter, including table of contents and introduction.
Download a printable publication sheet that you can put in your files or give to your librarian or bookstore.