SBL Press Bookstore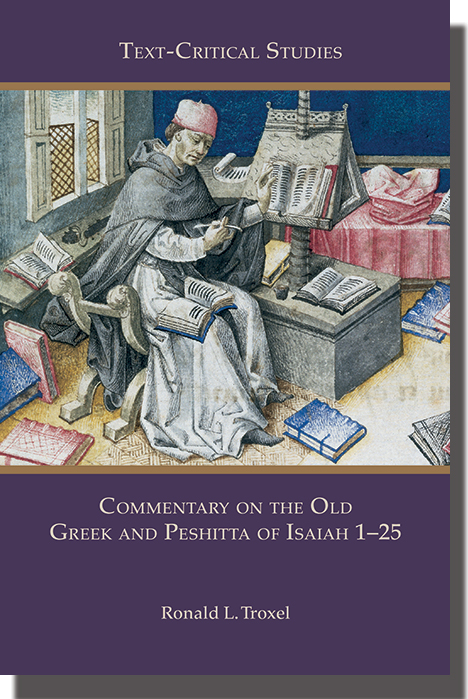 Commentary on the Old Greek and Peshitta of Isaiah 1–25
Ronald L. Troxel
Publication Date
May 2022
Hardback
$106.00
The first thorough commentary on the Old Greek and Peshitta of Isaiah
Ronald L. Troxel's new textual commentary on Isaiah focuses on the book's Greek and Syriac translations and seeks to recover, as much as possible, the Hebrew texts on which these early translations relied. Troxel treats the Greek and Syriac together in order to present a detailed analysis of their relationship, devoting particular attention to whether the Syriac was directly or indirectly influenced by the Greek. This comparison sheds light on both the shared and distinct approaches that the translators took in rendering lexemes, phrases, verses, and even passages. In addition Troxel presents observations about the literary structures the translators created that differ from those implicit in their source texts (as we understand them), to produce coherent discourse in the target language.
Features:
Textual commentary on the life of the text of Isaiah 1–25
Use of the Dead Sea Scrolls to shed light on particular issues
Detailed comparison of the Masoretic Text, the Old Greek, and the Peshitta
Ronald L. Troxel is Professor Emeritus of Hebrew Bible in the Department of Classical and Ancient Near Eastern Studies at University of Wisconsin-Madison. He is the author of Joel: Scope, Genres, and Meaning (2015) and LXX-Isaiah as Translation and Interpretation: The Strategies of the Translator of the Septuagint of Isaiah (2008).
Download volume front matter, including table of contents and introduction.
Download a printable publication sheet that you can put in your files or give to your librarian or bookstore.
Request a review copy.