SBL Press Bookstore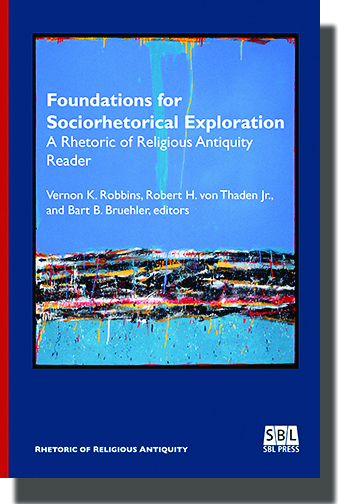 Foundations for Sociorhetorical Exploration: A Rhetoric of Religious Antiquity Reader
Vernon K. Robbins, Robert H. Von Thaden Jr., Bart B. Bruehler, editors
Publication Date
September 2016
Paperback
$68.00
Engaging resources for understanding the importance of bodies and spaces in producing and interpreting persuasive language
This volume collects essays that represent intellectual milestones that are informing sociorhetorical interpretation during the twenty-first century. The essays are arranged into five parts: (1) Topos; (2) Cultural Geography and Critical Spatiality; (3) Rhetorolects and Conceptual Blending; (4) Rhetography; and (5) Rhetorical Force.
Features:
Tools for integrating multiple approaches to biblical interpretation
Resources that emphasize the importance of language that prompts mental pictures in effective rhetoric
Essays from classicists, rhetoricians, and biblical scholars
Vernon K. Robbins is Professor of New Testament and Comparative Sacred Texts in the Department and Graduate Division of Religion at Emory University. He launched sociorhetorical interpretation in New Testament studies with Jesus the Teacher (1984).
Robert H. von Thaden Jr. is the chair of Religious Studies at Mercyhurst University. He is the author of Sex, Christ, and Embodied Cognition: Paul's Wisdom for Corinth (Deo, 2012) and numerous essays and articles.
Bart B. Bruehler is Associate Professor of New Testament in the College of Adult and Professional Studies at Indiana Wesleyan University and the chair of the University Scholarship Council. He is the author of A Public and Political Christ (Wipf & Stock).
Download volume front matter, including table of contents and introduction.
Download a printable publication sheet that you can put in your files or give to your librarian or bookstore.